The Lich King is a man who wears many hats: ruler of the undead, king of the Frozen Throne, even proprietor of fine ice creams. It's that third occupation that will be on display for the Hearthstone Ice Cream Citadel Tour that will be making its way across Europe en route to Gamescom and in celebration of the Knights of the Frozen Throne release.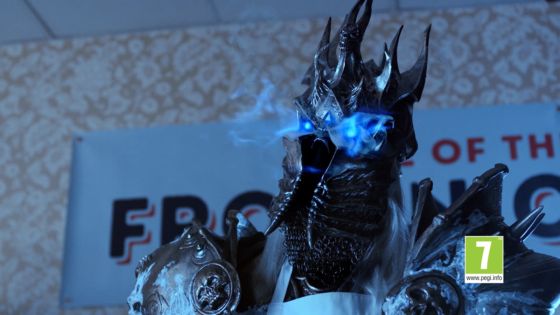 With the announcement of Knights of the Frozen Throne's release on August 11th in Europe, the Lich King will be bringing his own "unique" form of sweet frozen treats in an ice cream truck across several stops in Europe on the way to Gamescom. Fans are invited to grab a cone or a slush and to play Hearthstone through the truck's free WiFi hotspot, and visitors are encouraged to share pictures on social media with the hashtag #IceCreamCitadel for a chance at prizes.
Here's where and when the truck will be making its rounds:
August 12: Paris, France — Parvis de La Défense — 11:00-7:00
August 14: Lille, France — Place François Mitterand — 12:00-8:00
August 16: Brighton, UK — Jubilee Square — 11:00-7:00
August 21: Warsaw, Poland — Arkadia shopping center — 12:00-8:00
August 23: Berlin, Germany — Sony Center — 9:00-7:00
August 25 and 26: Cologne, Germany — gamescom city festival — 3:00-11:00
Meanwhile, Hearthstone's Knights of the Frozen Throne will release to NA players on Thursday, August 10th. You're welcome to enjoy the game with your own ice cream at home.
Our Thoughts
Considering that Hearthstone ran a similar promotion during Comic Con in July, this European road trip is a great idea. And that's not just because ice cream is awesome. We're looking forward to seeing this truck make its rounds!
Source: press release
Articles Related to Hearthstone
Hearthstone Reveals the Knights of the Frozen Throne Expansion
Hearthstone Announces Changes to Card Packs
The Art of Hearthstone Book Offered on Amazon
Related:
CCG
,
Event (Real Life)
,
Hearthstone
,
Knights of the Frozen Throne
,
News