Hoplon has announced today that Heavy Metal Machines open beta is now live, granting players who want to join in on some 4v4 vehicular mayhem their invitation. The announcement details a game that "encourages players to engage in creating carnage on an epic scale".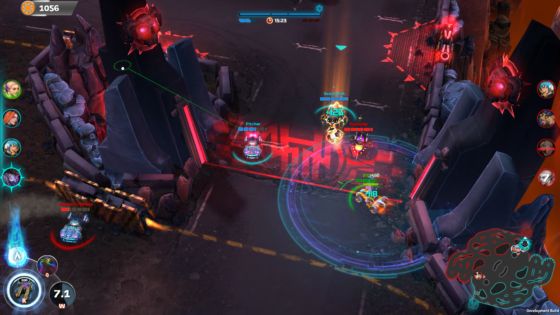 In Heavy Metal Machines, players take part in a race to deliver a bomb to an enemy base while fending off attacks from an opposing team. Cars come in three different roles: Transporters, which carry the bomb; Interceptors, which are responsible for stopping opponents from taking the bomb; and Support, who disrupt opponents or protect the Transporter.
With the launch of open beta, Heavy Metal Machines has also updated with new in-game voice chat options, a more visible life bar, localization for Russia, and a help guide for new players. The update also adds a new Support driver, Iris, who has a passive ability to heal nearby drivers.
Heavy Metal Machines is now available on Steam. You can find out more about the game on its official site, and a trailer for the game's open beta can be seen below.
Our Thoughts
Heavy Metal Machines looks a lot like the old SNES game Rock N' Roll Racing with online play and an awesome soundtrack. We can definitely dig the style of the game and its overall delight of loud mayhem, so we're most certainly curious to find out more!
Your Thoughts
Will you be checking out Heavy Metal Machines? Have you played in the game's open beta yet? Share your experiences with us in the comments below.
Source: press release
Articles Related to Heavy Metal Machines
The MMO Alpha and Beta List: January 27, 2017
Crossout Clan Wars Brings Weekly Competitive Tournaments
War Thunder Launch Arrives with Way of the Samurai Patch
Related:
Heavy Metal Machines
,
MMO
,
News
,
Open Beta
,
Steam