If you've ever played any vehicular combat arena game, you know that psychopathic clowns are drawn to this type of title. It's a natural force, like gravity. The newest Heavy Metal Machines update is no different as the game adds a new clown character and opens up the game's cash shop.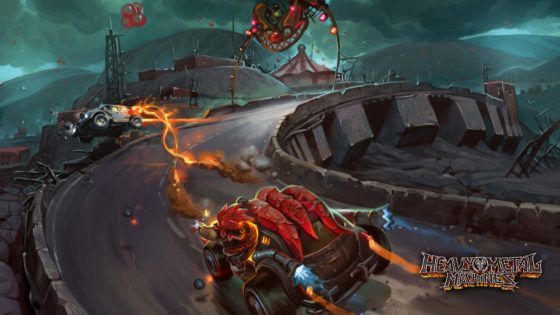 Killer J is the so-called "troll of the highest degree" and fills the role of Interceptor in Heavy Metal Machines. His penchant for sowing chaos is reflected in his abilities which specialize in causing vehicles to drive in unexpected ways, such as his Round-a-Blast ability which causes a struck vehicle to make a sharp turn and The Big Joke which sends out an AoE that causes enemies to spin out of control.
The game has also opened up its cash shop, granting open beta players access to a variety of boosters and DLC characters before they enter the game's free rotation. Heavy Metal Machines will also be offering up Founder's Packs, which will give buyers access to all current and upcoming roster additions as well as a variety of to-be-determined in-game goodies once the game officially launches.
Release dates for Founder's Packs or the final launch of the game were not provided in the press release.
Our Thoughts
So we can almost say that Heavy Metal Machines is entering a "soft launch" state instead of an open beta state. Opening up a cash shop essentially means that Hoplon is ready to monetize this free-to-play game, so we could be entering final launch sometime soon. It will be interesting to see how many players will offer their monetary support, as well as see how Killer J's entry in the game will shake down.
Your Thoughts
Have you been playing Heavy Metal Machines? Do you support the idea of opening up a cash shop, or do you think the game needs some more adjustment before monetizing itself? Let us know in the comments.
Source: press release
Articles Related to Heavy Metal Machiens
Heavy Metal Machines Open Beta Begins Today
Crossout Early Access Now Available on Steam
Games Like World of Tanks
Related:
Heavy Metal Machines
,
MMO
,
News
,
Update
,
Vehicle Combat