The barely-civil discourse against Hello Games and No Man's Sky has another strange chapter written, as a Hello Games tweet stating No Man's Sky was "a mistake" appears to be the work of a hacker.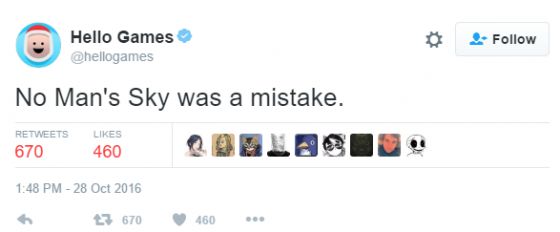 The above image capture of the tweet from yesterday appeared to be an admission by the developer regarding the title's beleaguered launch and reception. However, it was later found that the tweet came from the company's profile on LinkedIn, which suffered a data breach in June 2012. The hacker apparently continued their miniature crusade against the developer, speaking for the company on other social media outlets like LinkedIn and in emails to press.
As of this writing, there has been no official statement from Hello Games or founder Sean Murray, though according to a response to Murray's question the company states that they are "100% not hacked anymore". Hello Games' Twitter account has now been made private.
Our Thoughts
Disappointment in a released game is nothing new to the industry, but surely we're all better than this. It's incredibly unfortunate that someone felt the need to take their rage this far, but the other side of the coin is that neither Sean Murray or Hello Games has directly faced the continued criticism surrounding the game. An official response might salve some of the burn customers feel.
Your Thoughts
Do you think No Man's Sky was a mistake? Would an official acknowledgement from the developers build good will, or has that bridge already been burned for you? Give us your thoughts in the comments.
Sources: Twitter 1, 2, 3, LinkedIn, NeoGAF
Articles Related to No Man's Sky
No Man's Sky Review
No Man's Sky Investigation for False Advertising Underway
No Man's Sky Players Meet, Can't See Each Other
Related:
Hackers
,
Hello Games
,
News
,
No Man's Sky
,
Sean Murray
,
Twitter