So Paladins Battlegrounds, the combination of the original hero shooter and battle royale, is confirmed. But just how does it work, exactly? After all, the initial reveal and subsequent announcement trailer didn't have a lot to go on. Luckily, Hi-Rez Studios has provided not just details but a complete Paladins Battlegrounds match to take in. Two of them, even.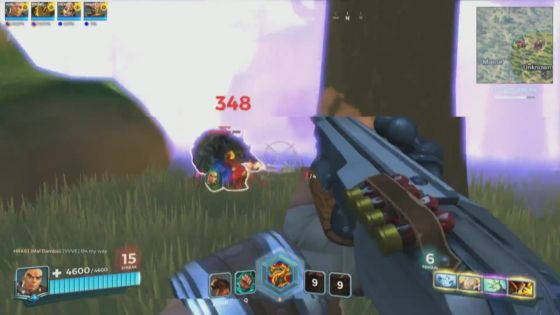 Here's how things work out: each team chooses one of a randomly selected series of areas to arrive on the mode's map and everyone lands in the same spot near each other. After that, it's essentially a scavenger hunt for chests that have cards to fill one of four inventory slots; Crystal, Armor, Gloves and Boots. Cards come in Uncommon, Rare, Epic and Legendary tiers, with Legendaries only found in chests that drop from zeppelins that randomly arrive over the map.
According to the running commentary in the video, the combination of cards and a mounting metric that increases your attack power for every kill you secure is meant to incentivize aggressive play and discourage camping or hiding in one spot. The end of the video also states that cards from the in-game store aren't planned to go outside of the offerings they have now, since their benefits apply in all of Paladins' modes.
If you've got about an hour to burn, you can watch the matches in the video below.
Our Thoughts
While we can't make assumptions of Paladins Battlegrounds from watching footage alone in the interest of fairness, it does appear that there's not much here that really makes this mode shine brighter than other battle royale games like PUBG. Perhaps the team composition, hero skills, and emphasis on aggressive play and looting are enough, but we're not completely convinced yet. That said, we'll still be curious to get a hands-on when we're able to.
Source: YouTube
Articles Related to Paladins
Paladins is Adding a Battle Royale Mode
Paladins Review
Hi-Rez is Making a 1v1 Mobile RTS Called Bot Smashers
Related:
Battle Royale
,
News
,
Paladins
,
Paladins: Battlegrounds
,
Video