Heroes of the Storm fixes matching, celebrates Winter Veil in style with holiday treats, and introduces the latest hero to the Nexus, Lunara!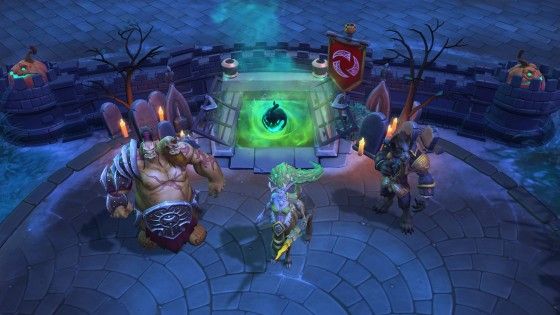 Just about everybody who plays Heroes of the Storm is most eager for Lunara, first announced at Blizzcon 2015. A Dryad and 'First Daughter of Cenarius', she is a pretty prominent figure in the Warcraft universe, first appearing in the RTS games. She is an Assassin who deals nature damage, utilizing natural toxins, pollen, and vines, but perhaps most interestingly, Lunara cannot use mounts. Instead, she leaps short distances, moving 20% faster.
The matchmaking issue has been a common complaint for a long time now, but the new rules in place seek to fix that. Basically, if you queue up via Quick Match and your team does not have a Warrior, you cannot be paired with a team that does have a Warrior among them. It's that simple.

Winter Veil in Heroes of the Storm is, for the most part, the addition of festive skins to the in game shop. However, the skins are pretty epic, this year including Sugar Plum Sylvanas and Greatfather Stitches. What's even better is that all new heroes, mounts, bundles and skins introduced today are 50% off their usual real money price until the end of the year! That's not all, though. For the duration of Winter Veil, all players can ride the new Festive Treasure Goblin Mount for free. This mount cannot be purchased. There is also a new event quest called the 30 Days of Winter Veil which will reward you with Stimpacks for certain amount of games played milestones. All of this will conclude on January 12th.
Today's patch also fixes a bunch of bugs and other things, so do make sure to read the patch notes here, and check out the Lunara spotlight video embedded below!
Our Thoughts
The matchmaking fix for Quick Matches is a godsend. Considering how important Warriors are to Heroes of the Storm's matches, teams without a Warrior beforehand were seriously disadvantaged, so it's nice to see an easy fix to such a frustrating problem. Also, offering 50% off all new heroes, skins, mounts and bundles is dangerous, especially with the likes of the Sugar Plum Sylvanas. I'm weak!
Related:
Blizzard Entertainment
,
Christmas
,
Event (In Game)
,
Heroes of the Storm
,
MOBA
,
News
,
Patch