The game-shaking adjustments of the Heroes of the Storm 2.0 update are now available to all as of today. With a new progression system, changes to Loot Boxes, the introduction of the Hanamura map and new heroes, the popular MOBA has seen its biggest piece of content yet.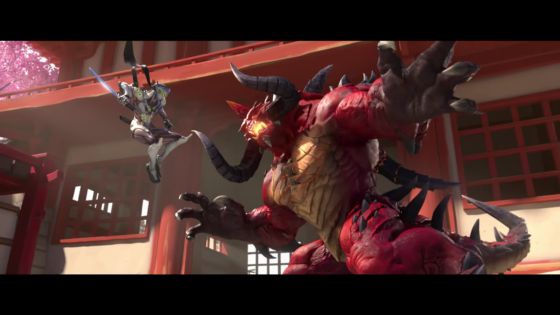 2.0 does away with the player level cap, with the sum of all Hero levels making up a player's total level. Every time you level up, you'll receive a new Loot Chest, and level up rewards will be richer when a player achieves certain milestones.
Speaking of Loot Chests, those have seen a major change as well. Now everyone, free player or not, will be able to receive Chests through progression. Player levels will offer up Basic Chests, while the aforementioned milestones can offer either Rare, Epic, or Hero-specific Chests. Each chest is guaranteed to drop at least one item of that chest's rarity or higher, and contents can even be re-rolled with the use of Gold.
As discussed previously, a new Hanamura map and the new Genji hero is also available in the update. In addition, D.Va has made her way to the Nexus, along with the release of the Amazon Warmatron Cassia. 2.0 will also offer up a change to the in-game store with the Collection, a new Loadout feature to set up preferred skins, mounts and other cosmetics, tweaks to the Currency system with the introduction of the Gem in-game currency, and lots more.
You can find out about everything in 2.0 on the official website, and take in a new cinematic battle in Hanamura in the video below.
Our Thoughts
It's definitely looking like 2.0 is one loaded update for Heroes of the Storm. The entire package all looks enticing. Which part of the new update are you going to take part in first? The new Hanamura map? The new Heroes? Share your impressions with us!
Source: press release
Articles Related to Heroes of the Storm
A Look at Heroes of the Storm 2.0
Heroes of the Storm Offers 20 Free Heroes with Mega Bundles
Heroes of the Storm Challenges Streamers to Tryhard For Good
Related:
eSports
,
Heroes of the Storm
,
MOBA
,
News
,
Update