Blizzard's latest update for Heroes of the Storm did not just introduce a new character and ranked play changes; it introduced a Duck Hunt Easter Egg as well!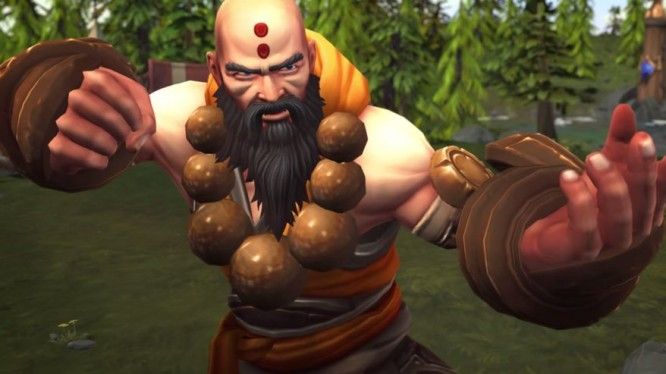 This news must sound rather odd, so allow me to be more specific. A version of Duck Hunt is now playable in Heroes of the Storm's main menu. Of course, the current main menu features Kharazim, the monk from Diablo III, as he is the newly added character. There is a set of trees alongside Kharazim, however, and that is the key to playing the Duck hunt mini-game.
You'll have to look closely, but a certain tree has wiggling leaves. Once you click on that tree, animated ducks begin to fly out of the trees one at a time. Your main objective in this mini-game is to shoot the ducks down before the fly away. Unfortunately you do not have a machine gun that fires at a rapid pace, so you'll have to aim precisely in order to hit the duck. If you happen to hit the duck, a treasure goblin catches it and holds it up victoriously for you to see. You can see it all in action in the video below:
What is surprising is that it wasn't mentioned in the patch notes. Then again, that's the point of an Easter Egg. It is unknown whether this mini-game will remain in place for as long as Kharazim is the featured character. In addition to Kharazim and the Duck Hunt game, the latest Heroes of the Storm patch combines the two ranked play modes, introduced dynamic bundles, tweaked certain characters and more.
Do you like the addition of this mini-game to Heroes of the Storm? Do you even play Heroes of the Storm now that you can play a Duck Hunt mini-game? So many questions..
Source: Gamespot
Related:
Blizzard Entertainment
,
Heroes of the Storm
,
MOBA
,
News
,
Patch