If you're anything like me, the first time you saw the trailer for the new Heroes of the Storm Enforcer skins, your mind immediately went to a certain late 80's/early-90's action cartoon. That content is currently available to players in the Nexus, along with reworks of the heroes Medivh and Sonya.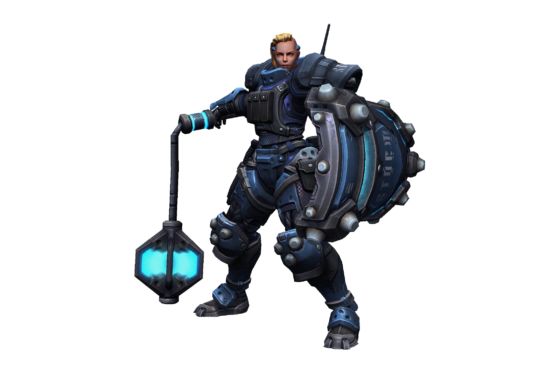 According to the patch notes, tweaks to both Sony and Medivh are "significant", with a blog post made by the devs in late February offering deeper insight into the changes. TL;DR, Sonya's tweaks are intended to give players more talent upgrade paths beyond Nerves of Steel and Ignore Pain, while Medivh has gotten changes that reward high-skill players and reducing frustrations players experience when taking him on. The patch has also made adjustments to Ana in order to make her feel more meaningful in solo-Support teams.
Of course, the other big add with the new patch are some high-tech police skins for Johanna, Lt. Morales and Greymane, along with a new mount to tie it all together. Skins for Lucio, Azmodan, Medivh, and Sonya have also been introduced, along with a Lucky Piggy Bank mount and mount rewards for ranked season players.
All of the new stuff is fully detailed in the patch notes.
Our Thoughts
Fighting crime in the Nexus time…sorry. I refuse to let that reference go. On the subject of this patch's tweaks to Medivh and Sonya, we hope that players of both characters (or players who fight against the same) have found the new adjustments to their liking.
Source: press release
Articles Related to Heroes of the Storm
Heroes of the Storm Adds Maiev and the Lunar Festival
Heroes of the Storm Goes Mecha Anime with New Skins
Heroes of the Storm's Blaze Goes Live
Related:
Heroes of the Storm
,
MOBA
,
News
,
Patch