The latest PTR patch to Heroes of the Storm is a pretty loaded one this time around, with the MOBA getting another addition to the Assassin roster and the start of a Heroes of the Storm Lunar Festival event full of seasonal treats for players.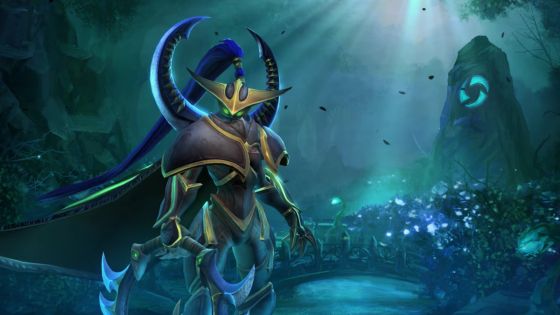 Maiev Shadowsong, the doggedly determined Warden, has made her first steps into the Nexus. A melee-based Assassin character, Maiev has a variety of skills that allow her to evade enemy attacks while hindering targets from fleeing. Her trait, Vault of the Wardens, allows Maiev to leap into the air and become completely immune to all damage for just under a full second, while her Spirit of Vengeance ability allows her to throw out a shadow of herself for a short distance and then Blink to its location if she so chooses.
Maiev's Heroic lockdown abilities are particularly impressive, with a Containment Disc that Time Stops an enemy and completely blocks their vision for four seconds, while Warden's Cage creates a ring of allies that will shove surrounded enemies back to the center of the ring at least one time.
For everyone else (or those who don't particularly care to play Assassins), there's the Lunar Festival as well, which offers up new skins and mounts along with seasonal sprays and portraits. The event also has a Lunar Rocket Racing mini-game that has players riding on top of giant firework rockets and collecting power-ups through a seven-lap race course.
The update also has a number of features including a new target info panel and some adjustments to Malthael, Greymane and Tyrael. HotS is also introducing a new voice chat feature, though that function is currently due to release to the live servers at a later date.
The PTR update will be available until Monday, February 5th. The Patch notes are available here, details on the Lunar Festival are here, and Maiev's Hero Spotlight is below.
Our Thoughts
We really love Maiev's set of tools. Of course, she's not a hard counter against all characters, but her lockdown skills could prove suitably disrupting and her penchant for attacking multiple enemies at once could make herding foes deadlier. But in the meantime, we're looking forward to racing on the top of huge firework rockets.
Sources: official site 1, 2
Articles Related to Heroes of the Storm
Heroes of the Storm Goes Mecha Anime with New Skins
Heroes of the Storm's Blaze Goes Live
Heroes of the Storm Brings 2018 Gameplay Update
Related:
Event (In Game)
,
Heroes of the Storm
,
MOBA
,
New Hero
,
News
,
Update