2015 was a huge year for Heroes of the Storm eSports, but Blizzard is taking it to a whole new level in 2016. With the first qualifiers and regional championships already underway, Blizzard has decided to share the dates and locations for some of the Heroes of the Storm regional events, along with links to additional information.

As was announced at BlizzCon, 2016 kicks of the all-new Heroes of the Storm Global Championship Circuit. In this circuit, the best teams from Australia/New Zealand, China, Europe, Korea, Latin America, North America, Southeast Asia, and Taiwan will be competing in a seasonal format, with each of the three seasons – being Spring, Summer and Fall – culminating in a Global Championship event. With more than $4 million on the line, the 2016 Global Championship Circuit is huge.
The Spring Global Championship event itself will run from April 1st until April 3rd, and will be held in Seoul, South Korea. With a prize pool of $500k USD, this is, of course, the biggest of the events. With prize pools ranging from $18.5k USD for Latin America to $200k USD for Korea, there's quite a bit of differences, but the essence of regionals stay the same: the best team wins.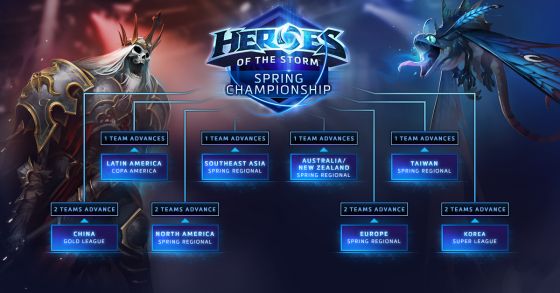 For more information about each region's event dates, location, partner, prize pool and more, make sure you head over to the official Heroes of the Storm website.
Our Thoughts
Heroes of the Storm is definitely among the best MOBAs around, and its eSports events are getting bigger and bigger as well! The prize pools differ quite a bit between each region, but we're sure there's an explanation for that. It's still worth participating in any of the regions, however, so if you're good at Heroes of the Storm; grab your chance now!
Source: Heroes of the Storm Website
Related:
Blizzard Entertainment
,
Championship
,
eSports
,
Heroes of the Storm
,
MOBA
,
News