Developer Heroic Games has announced that the Ship of Heroes Kickstarter campaign launches today! The goal of the campaign is to raise $400,000 USD so that development can proceed through a playable Alpha version of the game. Depending on the progress of the Kickstarter campaign, the funds raised may be sufficient to carry development of the game all the way to launch.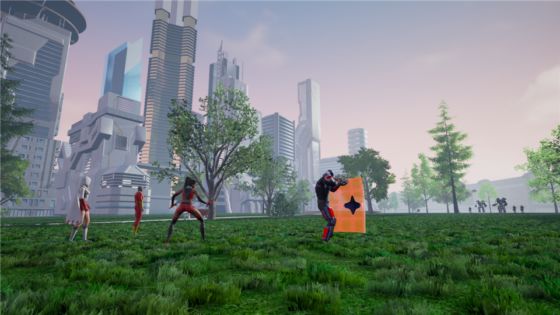 The Ship of Heroes Kickstarter campaign has now officially kicked off. The page features a video showcasing the game so far, depicting the use of the flight power in game, as well as a combat sequence. The dev team has pledged to be as open and transparent regarding the progress of development as they can be and to involve the community in the process. According to Heroic Games CEO Casey McGeever: "We're not one of those teams that says we'll show it to you when we're done – we really want the feedback from our community, and we make changes and improvements based on responses."
Ship of Heroes is an ambitious and much-anticipated superhero-themed MMORPG, and it is being developed to run on the Unreal 4 Engine. McGeever explains that:
"Ship of Heroes has an unusual goal, which is to recreate the best parts of the Golden Age of MMOs…and combine them with a new MMORPG that looks great and enables new levels of gameplay." He elaborates on his vision for the game, saying "Ship of Heroes is designed to be a destination where you go to meet your friends and have great, action-packed adventures, not a game where you play through once and leave."
Check out the Kickstarter here!
Our Thoughts
To say many of us here at MMOGames are excited about Ship of Heroes is a huge understatement. Most of us fondly remember City of Heroes, and have sought a similar game since it shut down. We hope, very sincerely, Ship of Heroes delivers everything they claim they will deliver. Time will tell, of course, but this certainly has all the ingredients to be a great game.
Do you think Ship of Heroes could be the superhero MMORPG we've been waiting for?
Source: Press Release
Articles Related to Ship of Heroes
Ship of Heroes Game Profile
Ship of Heroes Combat Previewed In Video
Ship of Heroes Demo Video Dances Through Downtown
Related:
Development
,
heroic games
,
Kickstarter
,
MMORPG
,
News
,
Ship of Heroes
,
Superhero