In addition to the announcement of SMITE Rivals, a whole bunch of other Hi-Rez Expo reveals were made over the past couple of days. The Hi-Rez Studios fan event announced a new Celtic pantheon for SMITE, the start of closed beta for SMITE Tactics, and the start of Paladins' first competitive season.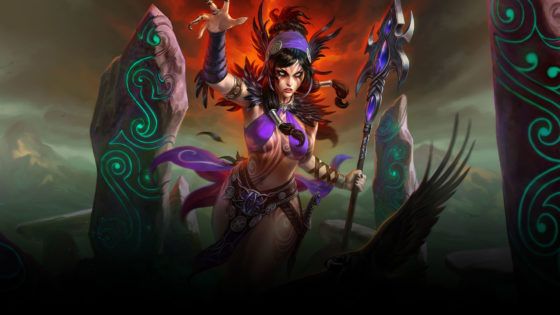 The Celtic pantheon is finally arriving to SMITE, and the new assortment of gods starts with the arrival of The Morrigan. The Morrigan is a Mage character capable of using confusion, misdirection, and even shapeshifting in to any active god on the field to attack her opponents. The Celtic pantheon will also bring a Path of the Phantom Queen event, where players can play a board game to unlock various Celtic-themed skins and rewards.
The turn-based strategy game SMITE Tactics has announced the start of its closed beta. The new build will introduce a new tutorial, new single-player campaigns to unlock the Egyptian and Norse pantheons, and the addition of several new leaders and new cards. Those interested in applying to the beta can do so here, or you can automatically get in with the purchase of a Founder's Pack.
Finally, Paladins will kick off Season 1 shortly after the Paladins Invitational eSports event. Season 1 will bring new heroes and a new fairytale castle map called Stone Keep. Players will also see new customizable skins for Ying and Viktor. Additional skins and sprays themed around the expo will also be available, and those who link their Twitch and Hi-Rez accounts will get a chance at extra drops.
A video showing off SMITE's newest goddess can be seen below.
Our Thoughts
Hi-Rez Studios has been very busy! With so many new updates for their games, it's easy to see why the studio has its own event. We're definitely interested in seeing everything these new updates have to offer.
Your Thoughts
Which of the Hi-Rez Expo reveals are your favorite? Are you going to be checking out any of the eSports broadcasts from the event? Tell us in the comments section!
Sources: SMITE official site 1, 2, Massively Overpowered
Articles Related to Hi-Rez Studios
SMITE Rivals Bringing "Tiny Gods, Big Fun" to Mobile
First Ever SMITE PvE Event Combines MOBA and MMO
Paladins Beta Player Numbers Reach 5 Million
Related:
eSports
,
Hi-Rez Expo
,
Hi-rez Studios
,
MMOFPS
,
MOBA
,
News
,
Paladins
,
SMITE
,
SMITE Tactics