The highly-anticipated revamp for SMITE's Joust map has finally been revealed via a trailer so epic that only Hi-Rez could possibly make it. Taking lots of inspiration from the Chinese mythology, it's everything you could possibly want it to be. Though we don't know any specifics just yet, it feels like a completely new game mode already just by looking at it.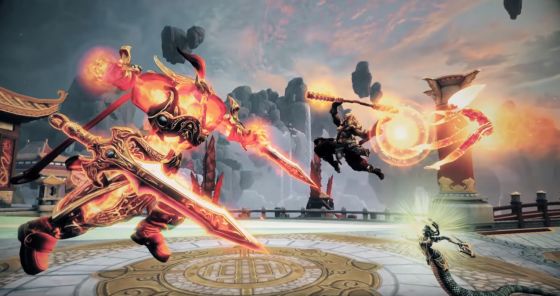 Sun Wukong is the main man in the trailer and guides you through the Joust map. With his many forms and cheeky personality, he introduces you to all the new objectives and jungle camps, which obviously look fantastic. Fighting a cat-like creature, he comes across Medusa who quickly finishes the new jungle monster off by wrapping her body around the creature's neck and firing a final viper shot.
Seeing that Medusa is clearly capable of dealing with the creature by herself, Sun Wukong quickly moves on to what we can only assume is the mana camp monsters. No time to kill them though, as Sun Wukong has more important things to take care off. Spotting Sol fighting what looks to be a bull, Sun Wukong returns to his regular form to help the Norse Goddess of the Sun take down the beast. The bull is unlike regular jungle camps though, and functions as a mini-boss of sorts who, if you manage to defeat it, stops enemy towers from defending for a short duration. The biggest challenge awaits though, as a flaming, dual-wielding titan awaits the trio in the epic finale of the reveal trailer.
With Joust being the most-played game mode on Xbox One and definitely not unpopular on its PC equivalent, it's great to see it finally getting a unique look and feel. Every structure and every creature looks absolutely fantastic, and though we're not sure which jungle buff is which (we might have a guess), each of them truly add something special to the map as they each have their unique surroundings. This is one map you will definitely want to explore to the fullest. Just don't forget to actually fight the jungle creatures, as their majestic appearance might distract you.
You can watch and admire the reveal trailer yourself below, and don't forget to watch the SMITE World Championship as it starts today!
Our Thoughts
We were already in love with the game mode previously, but this new look truly adds an extra spark to our romantic relationship with Joust. Oh, and don't forget to watch the outro as well for a sneak peek of the first goddess in the Japanese pantheon; Amaterasu.
Source: Press Release
Related:
Game Mode
,
Hi-rez Studios
,
MOBA
,
News
,
Reveal
,
SMITE
,
SMITE World Championship
,
Trailer