When you're out flying the skies of Nuanor and taking on myriad threats, you need a place to kick up your feet. Revelation Online's upcoming Safe Haven update will let players of the MMO do just that with the introduction of a personal housing system.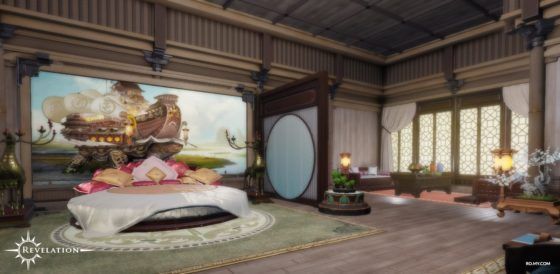 Safe Haven will add apartments to Revelation Online. The feature will be available to level 40 players at the Tortoise Inn. Apartments will be instanced zones of nine rooms, granting players a single room with eight neighbors to share a social space with. Apartments can be decorated freely with a selection of over 160 different items. Players can also grant up to five friends an apartment key.
The new update will also introduce an Archaeology system to Revelation Online. Information on this new feature is limited, but it's described by the press release as a way for players to "unravel mysteries of various renowned landmarks in the world of Nuanor".
The Safe Haven update arrives to Revelation Online on Wednesday, July 26th. A trailer showing off the update can be seen below.
Our Thoughts
The housing system in Revelation Online looks fairly similar to the apartments feature available in Final Fantasy XIV, though the space for these apartments does seem to be a bit larger in size. Creating a personal space in an MMO is definitely one of the fastest ways to make a game's community stick, so we're excited to see how players react to this new feature!
Source: press release
Articles Related to Revelation Online
Revelation Online Introduces New Dungeon The Sunken Galleon
Revelation Online's Stardust Release Date is Confirmed
F2P Kingdom: Is Revelation Online Free to Play Really Pay-to-Win?
Related:
MMORPG
,
News
,
Revelation Online
,
Update