It's not quite out here in the States yet – blame the round planet Earth for that – but today marks the official start of the Hyper Universe Xbox One launch, bringing side-scrolling MOBA gameplay to the console for free on August 7th.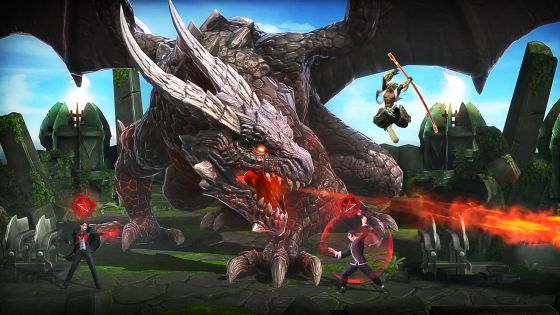 Those who play Xbox One in New Zealand have already seen the game release to them, so that brings Hyper Universe online for the US starting at midnight PST on Tuesday, August 7th during the game's global rollout.
As mentioned before when the game confirmed its release date, Hyper Universe is arriving with 39 Hypers in its roster, two maps, and a variety of gameplay modes and features including Custom Matches and a Spectate mode.
In celebration of the game's Xbox One launch, players can earn themselves a new character skin. From August 7th to September 10th, those who play and win ten matches will unlock a console-exclusive Auroroa's Blade skin for the character Allen.
Free players will gain access to a weekly rotation of heroes, while the in-game shop will house Hypers and skins. If you'd rather not deal with a weekly rotation, there is an offered Ultimate Hypers Pack that includes all existing and future characters along with Xbox exclusive skins for several characters. That will set you back $19.99.
All the details you could want for the Xbox One launch of Hyper Universe can be found on the game's website.
Our Thoughts
We hope Xbox One players find something to enjoy in Hyper Universe. Admittedly, the choices for MOBA gameplay on the console are pretty thin so perhaps there is an underserved audience there. We'd love to hear your take on this game if you do decide to check it out come launch.
Source: press release
Related:
Console
,
Hyper Universe
,
Launch Date
,
MOBA
,
News
,
Release Date
,
Xbox One