We're starting to see a trend here. Every year The International Dota 2 tournament rolls around and its prize pool never ceases to amaze. The International 2016 has just surpassed last year's prize pool of $18,429,613.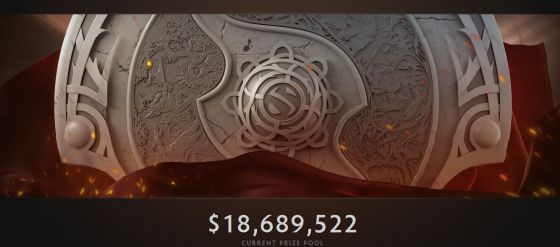 At the time of this post, the prize pool for The International 2016 stands at a massive $18,689,522. This makes it the largest eSports winnings for a single event in history and there is still another week until the tournament begins on August 3. It's possible that we could see a $20+ million prize pool by then.
These massive tournaments hosted by Valve, and crowdfunded by the fans, have pushed Dota 2 into the top eSports earnings spot. Currently, Dota 2, League of Legends, and StarCraft II are the most lucrative eSports in the world.
That being said, League of Legends has more paid tournaments but with smaller average prize pools. These massive payouts from The International and Major events make up more than half of the Dota 2 winnings since the game's release.
Our Thoughts:
The way Valve redefined tournament funding with the Compendium was ingenious and has allowed for these massive eSports payouts. However, it would be better for the industry and the players if it wasn't so concentrated. Only a handful of teams ever even get a shot at The International money while the thousands of other players are fighting for the scraps.
Your Thoughts:
What do you think about the way Valve handles its Dota 2 tournaments? Will you be watching The International 2016?
Source: Valve
Related:
Dota 2
,
eSports
,
MOBA
,
News
,
The International 2016
,
Valve