Now that game designer James Ohlen is "free" from the clutches of EA, he's had some time to likely mull over things as well as speak out about the games he's been a part of for the company. And that's just what he's done in a recent interview, where he talks about SWTOR and Anthem both among many other topics from his time in game dev.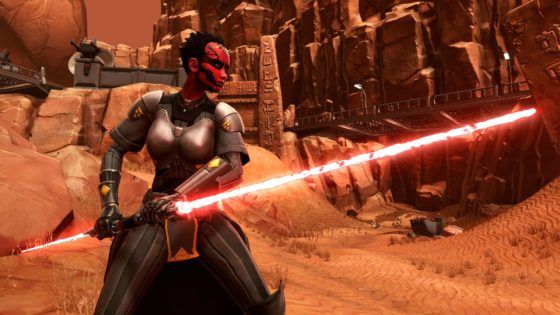 On the subject of the Star Wars MMORPG Star Wars The Old Republic, Ohlen admits that the company perhaps tried to chase the dragon's tail a bit too hard.
"I wish that I pushed a little bit more toward making it kind of Knights of The Republic online rather than 'Star Wars World of Warcraft'. A lot of the feedback…was, 'Hey, we wanted Knights of the Old Republic Online,' something that was more similar to that than a game that was more traditional in the World of Warcraft sense. I can see where that was coming from, but I am still proud of where Star Wars: The Old Republic got to."
As for Anthem, Ohlen responded to the prevailing assumption that BioWare's life as a studio hinges on the success of Anthem and that EA's finger is on the kill switch.
"I think EA is looking for BioWare to be a long-term part of the company," said Ohlen. "If it [Anthem] doesn't do gangbusters I don't think that's the end of BioWare. I think it will simply be a chance for BioWare to learn some lessons and apply it to the next game that comes out."
Ohlen covers a broad range of other points in the interview, including word on his current work, so it's absolutely worth a full read through.
Our Thoughts
This does bring up the point of why the early SWTOR team didn't react to feedback about making the game more KOTOR online than Star Wars of Warcraft. Perhaps some form of external pressure? In any case, we wish Mr. Ohlen the best of luck in his future endeavors.
Source: GameInformer
Related:
Anthem
,
MMO
,
MMORPG
,
Multiplayer
,
News
,
Star Wars The Old Republic
,
SWTOR