In news we did not expect this morning, John Smedley has stepped down as the CEO of Daybreak Games in the wake of the huge cyber attacks on himself and the studio.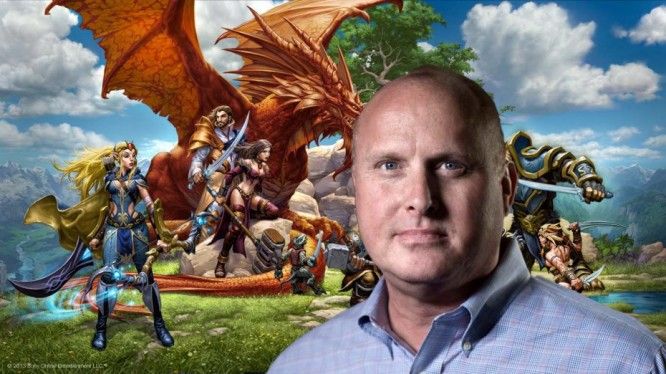 Smedley famously took to Twitter recently – after cyber-criminal Julius Kivimaki was convicted of over 50,000 cyber-crimes without jail time – threatening to sue the 17-year old. DDoS attacks followed on all of Daybreak's games and a few days later, he opted to leave Twitter entirely.
It is sad news indeed that it has come to this, as despite his habit of speaking out very publicly, Smedley has been with the studio for many, many years now, going all the way back to the mid-90s when Sony put him in charge of the Sony Interactive Studios America development team, the studio in charge of the development of EverQuest, which officially launched in 1999 to great success.
SISA become Sony Online Entertainment, the studio that published many major MMORPGs including Star Wars Galaxies and EverQuest II. Despite SOE's lack of huge success following the launch of the behemoth that is World of Warcraft, Smedley has pushed the studio in new directions where needed, asking his development teams to think beyond the traditional MMO players and subscription-based payment models in 2007 where the studio put forward games like DC Universe Online and H1Z1 and opted for the free-to-play approach.
And then back in February, SOE became Daybreak Games, a studio separated from Sony. Smedley had to make some tough decisions to pull the company back together after some hardships but it seems as though Daybreak is at last pulling forward and making some headway once again.
So Daybreak may have lost the man who drove the company to be what it is, but Smedley is fine, as is Daybreak Games itself, with the current chief operating officer Russell Shanks stepping in as the new CEO, and Smedley due to take on a different role within the company due to be announced, as well as, apparently, something else very soon!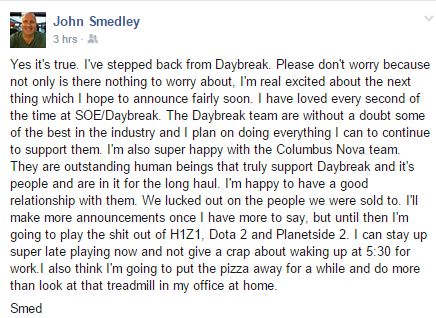 Source: VentureBeat
Related:
CEO
,
Daybreak Game Company
,
Industry
,
John Smedley
,
News
,
Sony Online Entertainment