The newest chapter of the Star Wars: the Old Republic episodic storyline is now live for all players! Knights of the Fallen Empire: The GEMINI Deception is the fifteenth Chapter of the episodic storyline, in which players will attempt to deliver the ultimate assault against the Eternal Empire.
Building up on the story of the Outlander introduced in Knights of the Fallen Empire, Chapter 15 will see the Outlander teaming up with the deadly Droid SCORPIO to infiltrate a Zakuulan warship and face Emperor Arcann's formidable force of elite soldiers. When the mission goes awry, the Outlander must find a way out of a deadly trap – only to be faced with a shattering betrayal.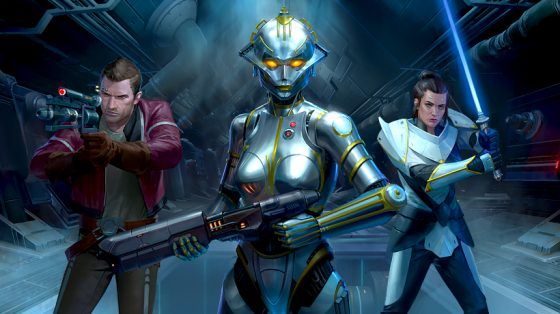 Notable features of the DLC are the new GEMINI cartel pack that offers players the chance to get a GEMINI pulse weapon in addition to rare vehicles and armor sets, as well as the Dark vs. Light event, representing a new opportunity for players to earn more challenge rewards during this summer.
Details about the next installment, Chapter 16, will be revealed before the end of July. In the meantime, you can watch the teaser trailer for Chapter 15: The GEMINI Deception below:
Our Thoughts:
Infiltration, conflict and betrayal? This sounds like a winning combination for Bioware's new DLC and we can't wait to see how the story plays out. Are you playing through Chapter 15? Let us know what you thought about it in the comments!
Source: press release
Recent Articles Related to Star Wars: the Old Republic
The Five Most Solo Friendly MMOs
8 Great MMOs for the Summer
4 Alt-Friendly MMOs
The MMO is NOT Dead
Related:
Bioware
,
Knights of the Fallen Empire
,
MMORPG
,
News
,
Star Wars The Old Republic