With the incoming Lancelot update to Albion Online, players will get to throw out a line and see if they can't reel in a tasty (or lucrative) catch. In the latest video with game director Robin Henkys, Albion Online fishing is the chief subject, detailing how it works and what layers await those who are ready to start.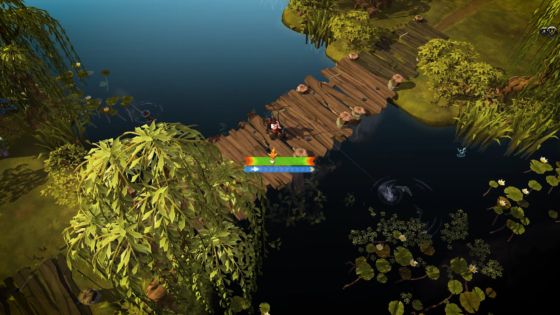 According to Henkys, the idea behind adding fishing is to introduce a fun activity that lets players wind down after their labors in-game while also being deep enough for players to get wrapped up in and integrate neatly into the economy of Albion Online. Examples of such depth for fishing includes a fishing journal for player houses, a fishing Destiny Board, and even a fish boss monster that players can defeat and then craft into a trophy.
From the minigame involved in hooking a fish, to crafting elements, to how much players can fish in a given area, it's all covered in a nearly 10 minute-long video full of fishy goodness that can be watched below.
Our Thoughts
This definitely isn't just some tacked on tertiary activity, by the sounds of it. Fishing in Albion Online appears to be a significantly deep system with its own form of progression and benefits. Here's hoping that the fisher-minded players of this sandbox don't find themselves locked in battle with a catch and then pounced on by others.
Source: press release
Articles Related to Albion Online
Albion Online's Lancelot Update Reels In a Release Date
Second Albion Online Expansion Since Launch Announced
Albion Online Review
Related:
Albion Online
,
News
,
Sandbox MMORPG
,
Video