The gravity-defying team-based FPS action of LawBreakers is now heading to PlayStation 4 owners. LawBreakers PS4 will be arriving along with the PC version, which are now confirmed to be buy-to-play games by Nexon America.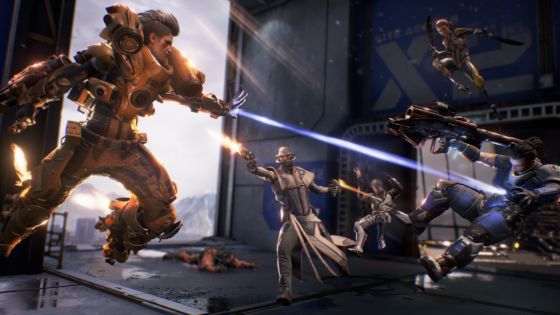 The announcement offered some brief details about the game's PS4 version, mentioning that the title will be "enhanced" for the PS4 Pro but didn't offer specifics on how. Regardless of platform, the multiplayer FPS will launch on both PC and PS4 at $29.99. In addition, the game will not introduce any sort of season pass scheme, with free updates being confirmed. Players can earn cosmetics from Stash-Boxes, which can be earned in-game.
"We're confident LawBreakers will be one of the best valued and most challenging FPS games on PC or console," said Boss Key Productions' Cliff Bleszinski in a statement. "We found that messing with gravity, and having it mess with the player, adds a dynamic vertical element that will challenge players of all skill levels to go above their limits. Add in a variety of character role play-styles that go beyond the basic 'tank, sniper and medic,' a price point that we feel is fair to the player and the fact that it's just damn fun to play."
LawBreakers on PS4 will be available on the show of this year's E3. Both the PS4 and Steam versions of the game are due to release simultaneously later this year, though no date has yet been confirmed. A cinematic trailer for LawBreakers can be seen below.
Our Thoughts
$30 for LawBreakers is a remarkably good deal, especially for an FPS that's as fun and frantic as it is! Consider us mightily surprised by the game's price point as well as its plans to not monetize future updates.
Source: press release
Articles Related to LawBreakers
LawBreakers Closed Beta Test Leaps into Action
LawBreakers Hands-On Preview
LawBreakers Alpha Preview
Related:
FPS
,
LawBreakers
,
News
,
Playstation 4