Those who are "skilled AF" are hereby called to the anti-gravity, high-speed FPS arena of the LawBreakers launch. The new competitive multiplayer shooter is now live for PC and PlayStation 4 players as of today.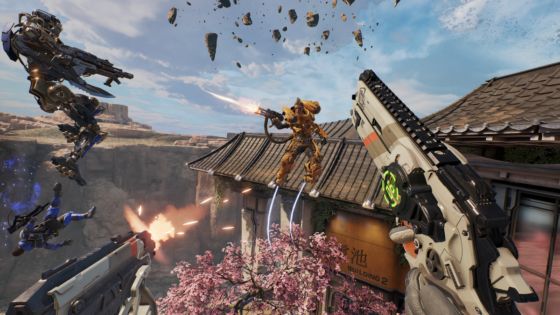 "From the beginning, we committed ourselves at Boss Key to find the fun first when making LawBreakers, and place gameplay ahead of everything else," says CEO of Boss Key Productions Cliff Bleszinski. "Since then, we've worked to push the genre into a new direction, taking everything we've learned in the past to deliver a super fast FPS that challenges gamers to be their best and truly compete in gravity-defying combat."
That gravity-defying combat is ever-present in sections of LawBreakers' arenas where gravity is severely lessened and vertical movement becomes a powerful factor in firefights. The FPS comes loaded with eight maps, nine different classes, and five team-based game modes.
LawBreakers is now available for PC and PS4 at a cost of $29.99 for the Standard edition and $39.99 for the deluxe "Deadzo" edition. More information can be found on the game's official site, and a launch trailer can be seen below.
,
Our Thoughts
It's been a while since we stepped into the arena of LawBreakers, so we're definitely eager to see how far this frantic FPS has come since then. We hope shooter fans enjoy the unique anti-gravity spin that LawBreakers is bringing to the genre.
Source: press release
Articles Related to LawBreakers
LawBreakers Alpha Weekend Preview
Play of the Fortnight: Overwatch Summer Games 2017 Preview
Warframe Devs Announce FPS/CCG Hybrid Keystone
Related:
FPS
,
Launch
,
LawBreakers
,
News
,
PC
,
Playstation 4