Life in a sandbox MMO is going to be rough without friends, so forming a Life is Feudal MMO guild is going to become pretty essential. A new video from Bitbox details how guilds are formed, how land is claimed, and the systems, benefits, and risks associated with planting your flag in the world.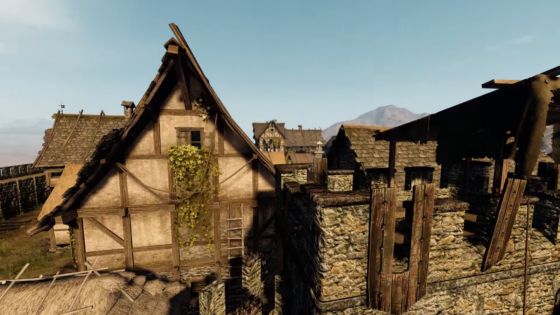 Guilds in Life is Feudal MMO are a collection of a minimum of 10 players. Once you've rounded up 10 of your friends, you can stake a claim anywhere in the world to begin building your domain. Location is key when deciding on a build spot, however. Stake a claim in the far north and you'll be in a cold land where logging is plentiful but game is sparse; claim an area in the south, and you'll have lots of animals to hunt but will face harder farming conditions due to the climate.
After your guild has found the perfect spot, you can place a Monument to mark your territory provided you have the right materials. The area projected around your Monument denotes a zone of safety, protecting you from sneak attacks and player theft while also giving you the authority to punish aggressive trespassers without any effect to your Karma. The realm of a Monument's power can be further improved with material Sacrifices. Bear in mind, however, that there is a Judgement Hour that will remove the protective benefits of a Monument.
There are a few other things to consider when establishing your roots in Life is Feudal MMO, so be sure to watch the video below to get more information.
Our Thoughts
It all sounds like many of the guild features in Life is Feudal MMO will reward cooperation, which is pretty vital to a sandbox community. Of course, what players will do with these systems can often be radically different from what's intended, so we'll wait and see how the guild system in Life is Feudal MMO actually operates in the wild.
Source: press release
Articles Related to Life is Feudal MMO
Life is Feudal MMO Developer Interview
Life is Feudal: Your Own Preview
The MMO Alpha and Beta List: July 7, 2017
Related:
Guilds
,
Life is Feudal: MMO
,
News
,
Sandbox MMO
,
Video