Logitech have introduced a new Logitech G Prodigy line aimed at providing gaming gear to players of different skillsets and preferences.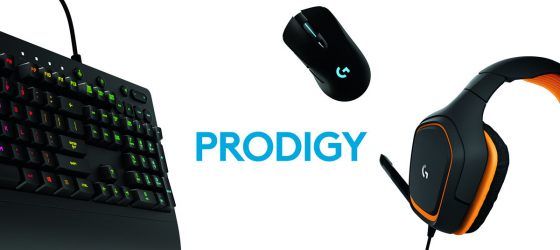 Citing the increasing number of people playing PC games, the Logitech G Prodigy line is set to offer "gaming gear that is simple and easy-to-use, but still includes the amazing technology and delivers the incredible performance you'll find in our flagship products" according to the official site. The lineup includes the G403 Prodigy mouse in wired and wireless variants, the G213 Prodigy keyboard and the G231 Prodigy headset.
The G403 wired mouse, G213 keyboard and G231 headset are all at an approachable price point of $69.99, while the G403 wireless mouse is set only slightly higher at $99.99. The Logitech G Prodigy line of products head the Logitech gaming website for those interested in finding out more.
Our Thoughts
Since we've had some hands-on time with Logitech's lineup before, we're extremely happy to see the Prodigy variant release. Offering Logitech equipment at a budget-friendly price makes excellent business sense, since there are PC gamers who can't always afford to stay on the absolute bleeding edge of tech. We applaud Logitech's gaming division for creating this new gear.
Your Thoughts
Do you think the Logitech G Prodigy line fits within your budget? Do you have another preferred brand of PC gaming hardware? Tell us in the comments!
Source: Official site
Articles Related to Logitech
Logitech Pro Gaming Mouse Review
PAX East 2016: The Logitech G Lineup
Logitech G410 Atlas Spectrum Review
Related:
Logitech
,
News
,
Peripheral
,
Technology