We have a winner of the Overwatch League Stage One! Which, of course, doesn't mean the event is over. Still, a $100k cash prize and the bragging rights that go along with beating the top team of the league heading into Stage Two is nothing to sneeze at, with the London Spitfire beating out the red-hot New York Excelsior in Saturday's battle.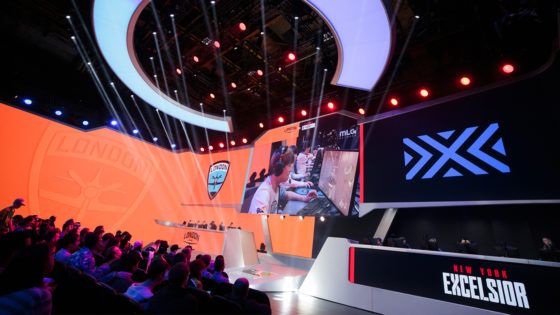 After taking down the second-seeded Houston Outlaws in a 3-1 win of their best of five set, the third place London Spitfire squared off against the first place New York Excelsior. It looked dire for the Spitfire as NYXL took the start of the series 2-0. After the half, the London squad rallied back in a reverse sweep win against NYXL 3-2, netting themselves $100k in prize money.
The London Spitfire capped off a marathon series of matches, with the team taking on NYXL earlier that night in regular stage play that saw them lose 3-2. Combined with that game, the playoff game, and the Stage final, London racked up the hours and the fatigue according to tank player Jae-Hui "Gesture" Hong.
"We were all very exhausted and tired, and that's why we weren't able to perform that well, and dropped the first two maps," said Hong. "After losing the first two maps, we thought, 'Hey, we can't let it end like this.' So we rallied back and won a game. After that, we were like, 'Hey, it's 2-1, might as well.' So we made it 2-2. So then we said, 'It's too close to let go, so we have to win.' And we ended up winning."
The final day of Stage One took a total of 11 hours to contest, as every match in regular play went to a tiebreaking fifth map and the playoff and stage games were already set to BO5. If you think that sounds like it's way too long, league commissioner Nate Nanzer agrees. According to a tweet from Nanzer, the league will be looking at making Stage Finals play out on Sunday starting with Stage Two, with additional schedule changes to come.
Until then, everyone in the Overwatch League gets a week-long break before the second stage of competition kicks off on Wednesday, February 21st.
Our Thoughts
First off, congratulations to the London Spitfire for weathering the storms of the day and taking the top prize in Stage One. Second, 11 hours is a LONG DAMN TIME, and as much as we enjoy the Overwatch League, we'd much rather have everyone well-rested and ready to fight at their best instead of drawing things out for that long.
Sources: press release, official site
Articles Related to Overwatch
Geguri to Sign with Overwatch League's Shanghai Dragons
Sombra Adjustments Accidentally Arrive to Overwatch
Overwatch Launches the Year of the Dog
Related:
eSports
,
FPS
,
News
,
Overwatch
,
Overwatch League