It's time once again for fans of Lord of the Rings Online and incredibly well-written musical macros to gather at Weathertop. Weatherstock X has published its full schedule, heralding the community event's ten years and announcing this year's performers.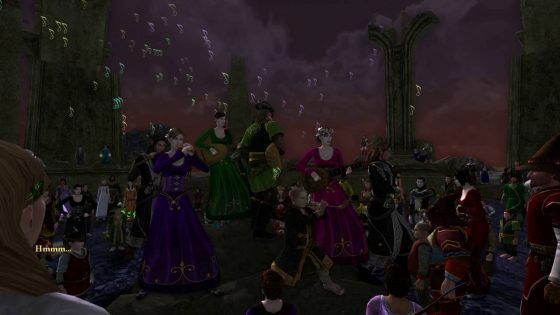 Weatherstock X will take place this coming Saturday, July 21st on the Landroval server. Interested attendees can gather up starting at 10am EST, then the festivities kick off at 10:30am EST with the hosting Lonely Mountain Band and a megaband opening set.
From there, competing bands will start their sets at 12pm EST. A total of 17 bands will be performing for a combined total of four hours. After that, voting will open at 4:15pm for 30 minutes, with the winners announced and playing an encore at 5pm, followed by a mounted procession for an afterparty at the Bree-land Festival Stage at 5:30.
If you're not able to attend the event yourself in-game, you can catch the whole affair livestreamed by Druidsfire on Twitch. The complete schedule and list of bands can be seen here.
Our Thoughts
It still astounds us to this day that LotRO's music system – and by extension this event – has grown in the manner it has. We would like to congratulate those who have been running Weatherstock for so long a hearty congratulations and hope everyone attending has an awesome time.
Source: official forums
Related:
Community
,
Community Event
,
Lord of The Rings Online
,
LOTRO
,
MMORPG
,
News