We've remarked about how PUBG's rampant success would lead to an onrush of battle royale games, but also mentioned that the PUBG and piracy combination offered by Maelstrom could be intriguing. Soon, we'll all get to find out just how intriguing with an impending Maelstrom Steam Early Access release.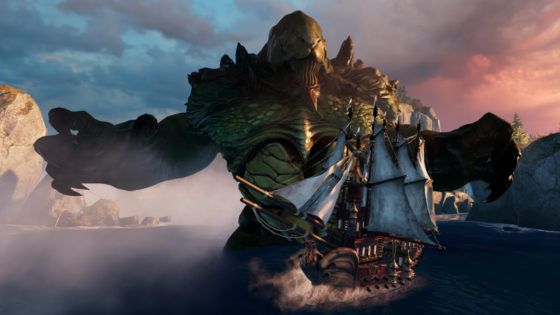 In Maelstrom, players can take command of ships from one of three factions: the human Phoenix Empire, the Steamborn Dwarves, or the Orc Pirate Lords. Each faction's ships excel in a form of playstyle such as long-distance attacking or ramming and boarding, and each ship can be further customized to suit their preferences. Players take to the waters of the Abyssal Ocean to square off in ship-to-ship combat, avoiding hazards and collecting loot from the map or slain foes to become the last captain standing.
Maelstrom has tied down the month of April to unleash its form of naval battle royale to Steam Early Access, though players who want to get in sooner than that get the opportunity if they back the game's Kickstarter. The crowdfunding drive is seeking $10k in order to complete visual polish and customization, animation, and voice actors, while the game itself is described as being in a "very stable" multiplayer state.
"A Steam Early Access release today is as important as a full release," elaborates lead developer Blaine Smith. "We want to play with seriously interested players to help us hone and test before early access launch, and begin to build a community that culminates into a healthy multiplayer environment well into release."
More information about Maelstrom's features can be read on Kickstarter, or you can just take in the trailer below if you're the visual learner sort.
Our Thoughts
Maelstrom could very well be the breath of fresh air that the battle royale genre desperately requires, though it's still obviously too early to tell. That said, the concepts of the game are most definitely sound and could be intriguing to subgenre fans. Which side do you sit on the Maelstrom fence?
Source: press release
Articles Related to Maelstrom
Maelstrom Meshes PUBG with Piracy
PlayerUnknown Wants More Protection from Copycats
H1Z1 Launches with New Upgrades and Vehicular Battle Royale
Related:
Battle Royale
,
Kickstarter
,
Maelstrom
,
News
,
Release Date
,
Steam Early Access