While many may have thought before about what IPs would work well with the GO treatment, the online mobile AR game Maguss looks to have beaten the concept of Potter GO to the punch as the title's developers are returning to the crowdfunding scene with new plans.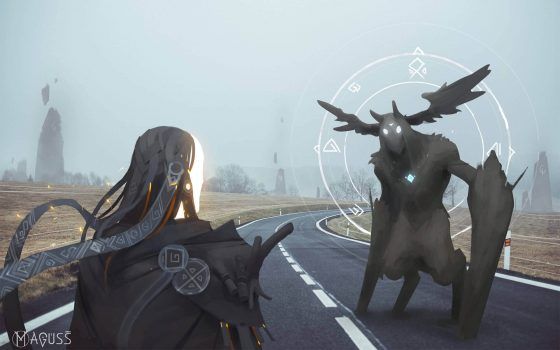 Maguss had attempted a Kickstarter campaign before as the Maguss Wand, a game that allowed people to wave a literal magic wand at each other in battle through an interconnected mobile app. Now, Maguss has resurfaced with a swanky new website and a new plan to see a more complete game come together.
Maguss will allow players to traverse their local area much like Pokemon GO. Activities include facing monsters, engaging in trade, exploring dungeons, battling with others or mastering runes and spells. According to the official site, the game will also allow players to play from the comfort of their own home, engaging in PvP, trading and crafting, though "main features" of the game are only available by stepping outside.
In order to complete work on the companion app, Maguss will launch an Indiegogo campaign in October. A specific date for the crowdfunding campaign will be announced on the company's social media later. The app itself is launching free-to-play and the Maguss Wand peripheral is estimated to cost $35, though an early bird price of $25 is being offered. The site does state that the Wand will not be necessary to play, as plans for "an interesting gameplay" are in the works for those who don't want to buy the Wand. Maguss will have a "freemium" business model, with plans to offer exclusive items and spells in the game's store.
A teaser trailer for the game was released in August and can be seen below, and you can find out more about Maguss on the official site.
Our Thoughts
An already failed Kickstarter launch is certainly cause for some concern, but we also have to admit that the concept of Maguss sounds very intriguing. We'll have to wait and see what the game actually looks like and how gameplay operates both with and without the Wand to fully make up our minds, but consider our curiosity piqued. As it stands, there are more questions than answers to get really excited.
Your Thoughts
What do you think about Maguss? Do you think this is the kind of game Pokemon GO should have been? Is this another crowdfunding disaster in the making? Give us your thoughts and opinions below.
Source: Official site
Articles Related to AR Gaming
Piggybacking the Hype – Pokemon GO Clones and Alternatives
Tippett Studio and HappyGiant Announce HoloGrid: Monster Battle
Google Appoints Clay Bavor as Virtual Reality VP
Related:
Augmented Reality
,
Maguss
,
mobile gaming
,
News