Make way for the King of the Inhumans! Marvel Heroes 2016 has introduced Black Bolt to the game's roster, bringing the protector of Attilan and his unique vocal powers to the MMOARPG.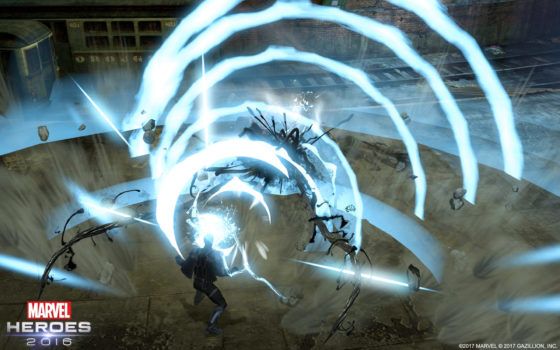 Black Bolt, AKA Blackagar Boltagon, is empowered with a voice that has the ability to shatter worlds with a mere whisper due to being exposed to the Terrigen Mist before birth. After rigorous training to control his unique powers, Black Bolt has taken up the mantle of king in order to protect his people.
According to Gazillion CEO David Dohrmann, Black Bolt is the first of several Inhumans that will be added to the roster of Marvel Heroes. "Today's Black Bolt release is the 61st playable Hero we've added since first launching in 2013 – and we look forward to introducing more fan favorites as we continue to expand the ever-growing roster of iconic characters," said Dohrmann in a statement.
Black Bolt is playable now, and a video showcasing the character in action can be seen below.
Our Thoughts
While the powers of Black Bolt themselves don't seem like an incredibly unique addition to the Marvel Heroes roster, it's still good that fans of the Inhumans series of books get to pick up one of their leading characters. We're excited to see what member of The Inhumans gets added next. May we suggest Medusa or Crystal?
Your Thoughts
Have you had some hands-on time with the new addition to Marvel Heroes? What other members of The Inhumans would you like to see added to the game? Let us know in the comments.
Source: press release
Articles Related to Marvel Heroes 2016
Marvel Heroes Summoner Changes Available on Test Realm
Beast and Jubilee Join the Marvel Heroes Roster
F2P Kingdom: Marvel Heroes Free to Play is The Best System Ever
Related:
Black Bolt
,
Marvel Heroes
,
MMO
,
MMOARPG
,
New Hero
,
News