A new form of end game progression is coming to characters in Marvel Heroes with the Infinity System, a more streamlined variant of the game's current Omega System.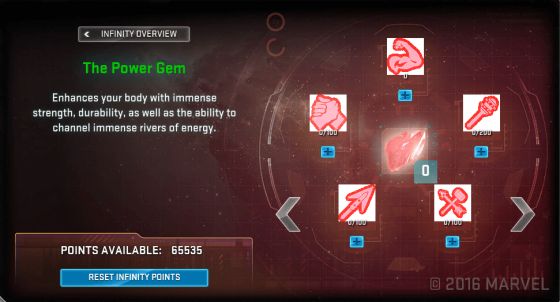 According to a recent developer blog post, the current Omega System of character progression was difficult to parse and led to "analysis paralysis". With the Infinity System, they hope to combat an overabundance of choice while still offering max level characters a sense of growing power.
The Infinity System refers to the six Infinity Gems of the Marvel Universe: Mind, Power, Reality, Soul, Space and Time. Each individual Gem provides five separate options for improving a character's power in that theme, such as improving attack strength or energy reserves. Each Attribute can be raised indefinitely, with each section of a chosen Gem's upgrade carrying varying costs of earned Infinity Points.
Those who are already at cap and have a large number of Omega Points will have their points readjusted when the system goes live, dividing current Omega Point totals by a factor of ten and rounding up. For example, someone who has 1,825 Omega Points will receive 183 Infinity Points.
The Infinity System currently has no official launch date yet, but is part of the previously mentioned "Biggest Systems Update Ever". More details about the Infinity System can be read here.
Our Thoughts
We're continually impressed by the design direction of Marvel Heroes and their insistence on putting fun and ease of access first. The Infinity System sounds like a significant improvement to the current form of end game progression, and we're getting more and more excited for this Biggest Systems Update Ever!
Your Thoughts
Are you happy with the upcoming Infinity System? Do you like the complexity of the current Omega System? Tell us your thoughts in our comments.
Source: official site
Articles Related to Marvel Heroes
Marvel Heroes Dev Blog Outlines "Biggest Systems Update Ever"
Marvel Heroes Celebrates Luke Cage Premiere with New Costume and Team-Up
Angela Added to Marvel Heroes Roster
Related:
End Game
,
Marvel Heroes
,
News
,
Progression