With the Doctor Strange film arriving to US theaters on November 4th, Marvel Heroes has decided to celebrate with some Doctor Strange content.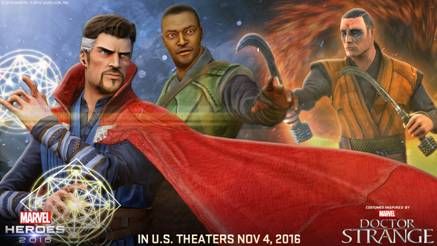 The new content includes a new costume for the spellcasting doctor inspired by the film, two Team-Ups featuring the character and a Mordo Team-Up for Doctor Strange. The ongoing Invaders of the Dark Dimension event is also included, which has demons invading Manhattan in preparation for the arrival of Strange's nemesis Kaecilius.
The Dark Dimension event still has a week left to go, and the rest of the Doctor Strange-related content will launch alongside the film's US theatrical debut this Friday, October 4th.
Our Thoughts
The devs of Marvel Heroes have generally been very good at tying the game to upcoming major releases in the Marvel universe, and this certainly looks to be no exception. The new film will mean renewed interest in the title character and we hope that players enjoy the things Doctor Strange offers them during play of Marvel Heroes.
Your Thoughts
Will you be checking out Doctor Strange, or are there other characters in Marvel Heroes you're more focused on? Give us your thoughts below.
Source: press release
Articles Related to Marvel Heroes
Marvel Heroes Introduces the Infinity System
Marvel Heroes Celebrates Luke Cage Premiere with New Costume and Team-Up
Marvel Heroes Dev Blog Outlines "Biggest Systems Update Ever"
Related:
Doctor Strange
,
Event (In Game)
,
Marvel Heroes
,
News