Let's say you enjoy ARK: Survival Evolved but didn't think it was cute enough. Or you like Minecraft but wanted more dinosaurs. Or maybe you didn't think either of those things but are curious what it is we're going on about. It's the PixARK announcement that we've been handed, a new open-world voxel sandbox set in the universe of ARK.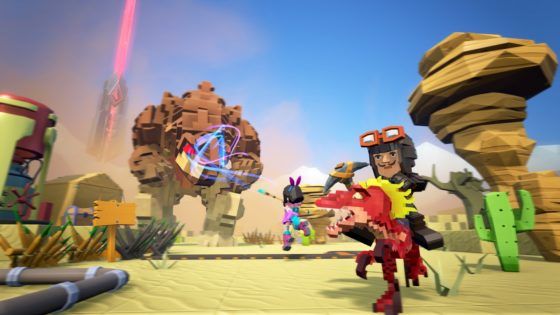 Described as a "fun, colourful game that introduces players of all ages to ARK while adding creative building modes and a clever pick-up-and-play experience", PixARK has gameplay that will strike as familiar to many players of survival sandboxes. Players wake up on a mysterious island and must gather resources to survive, build shelters and defend themselves from hostile beasts or other players.
PixARK will feature over 100 different dinosaurs and creatures to hunt and tame, procedurally generated worlds with eight unique biomes like jungles, caves and deserts, a procedurally generated questing system, and character progression and customization features.
PixARK will be making its way into Steam Early Access and Xbox Game Preview in March of this year, with a release on PC, Xbox One, PlayStation 4 and Nintendo Switch expected later in 2018. A trailer showing off the game can be seen below.
Our Thoughts
It's still pretty early overall, but there's not too much that makes PixARK stand out from either of the games it appears to be inspired by. Of course, a press release and a single trailer isn't a lot of information to make a judgement one way or the other, so we'll be sure to keep eyes on this one for more details that might make PixARK stand out.
Source: press release
Articles Related to PixARK
ARK: Aberration Expansion Gets a Release Date
Subnautica Takes the Plunge into Full Release
The MMO Alpha and Beta List
Related:
Announcement
,
News
,
PixARK
,
Survival Sandbox