Wargaming launches its newest title 'World of Warplanes' today, and they celebrated this with a launch event in Berlin. Our Wargaming contact, Marcela Koster, invited us to come to Berlin and be part of this fantastic event.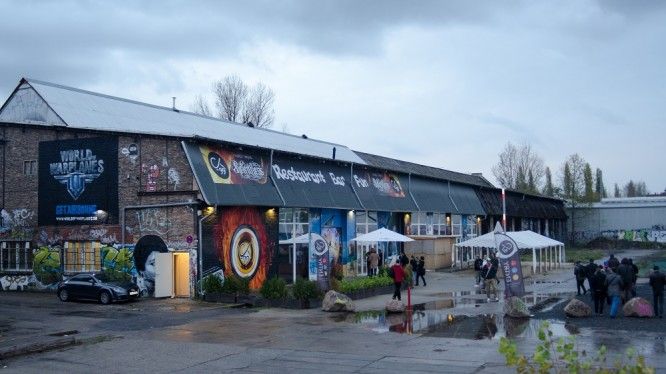 Somewhere in Berlin are a few abandoned warehouses standing together, almost all of them are empty save but one; Club CK-99. It was at this venue that Wargaming hosted its World of Warplanes launch event for the international press. Picture a lounge club with smooth lighting, relaxed atmosphere and lots of lounge chairs. Add lots of world of warplanes- and World of Tanks the Xbox360 edition-pods and a group of gaming-hungry journalists to the picture and you should be able to create a nice image of the evening.
All of the Wargaming representatives where at the party: Tom Putzki, Frederic Menou, Marvin Hall and of course Oleg Gotynyan were all present that night and available for interviews. As the evening progressed, we got a chance of interviewing both Tom Putzki and Frederique Menou at the same time. But I am getting ahead of myself, because first Tom Putzki and the others started the evening with a presentation of the company and the game itself.
Wargaming.net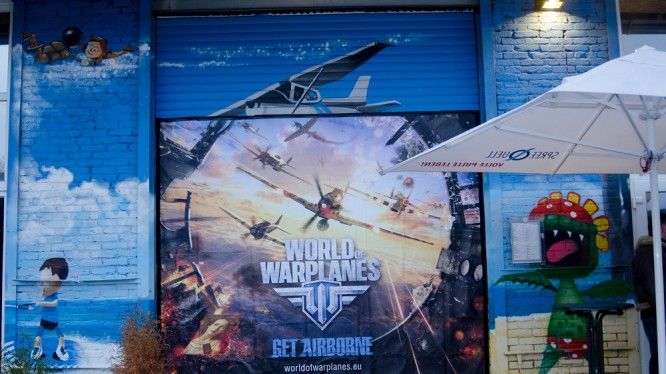 Wargaming is not a new company; it exists for over 10 years already. Back in the days, Wargaming wasn't a big player in the gaming industry at all. Scoring minor hits with games like DBA Online and Massive Assault and later on Order of War, no one would have thought that this would one day be one of the most successful companies in the world .All that changed with the release of World of Tanks in 2010.
World of Tanks became one of the biggest successes in the gaming industry; starting with 2 million registered users in 2010, Wargaming will be the first to point that those numbers have grown up to 75 million users in 2013. When starting Wargaming had small group of enthusiastic employees who made things work, nowadays Wargaming has about 2.200 people working for the company in four continents. Talking about growth huh?
Focusing on World of Warplanes will give you some more information, which will baffle you guys! World of Warplanes was developed in 2 years and 5 months. When Wargaming started with this project, they had 5 developers working on the project. It was back then that World of Tanks got so successful, and Wargaming immediately knew they couldn't develop WoWP with just those five persons. As the development progressed, ideas sprang to life and more and more developers were added to the project. In the end, WoWP had a team of 170 developers creating one of the best airplane arcade/simulator games up to date.
World of Warplanes was a success even before it got live. When announcing the closed beta, there were over 2 million gamers who registered to become one of the lucky ones to test the game. During the open beta, players started pouring into the servers and the game soon looked like it was live already. But it wasn't, not until this launch event in Berlin. From this day on Wargaming isn't a one-product company, but a multi-product company. And with World of Tanks Xbox 360 Edition going live in the very near future, Wargaming will become a multi-platform company as well.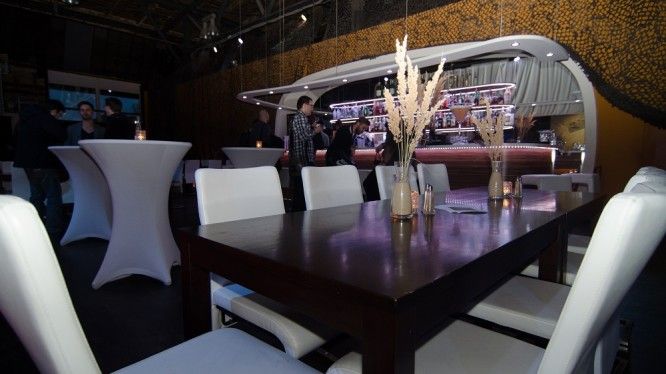 Tom Putzki and Frederic Menou
As the party was getting started, we got our queue that it was time for our interview. Both Tom Putzki (head of communications CE) and Frederic Menou (Managing Director EMEA and NA) walked into the interview room and sat down on the couch with big smiles on their faces. Time for some questions about World of Tanks Xbox 360 Edition and of course World of Warplanes!
I started off with a question about the success of Wargming in general. Nowadays, everybody has heard of Wargaming, World of Tanks en even World of Warplanes. But lots of developers try to get to the top, so why did Wargaming succeed?
Fred responded by saying:
"When World of Tanks started, we were hitting a niche with the game. We focused the game on just tanks; no people inside the tanks, no gore, just the tanks. When the game got noticed by the gaming community, it grew in an amazing rate. We knew the game was good, but we couldn't have expected the game popularity of the game to explode like it did."
One of the reasons why Wargaming has grown so much over the last couple of years is because of the monetization rate of the game. Where normal games would have a monetization rate of 1 out 10 players, World of Tanks has a 1 out of 4 players rate. That means that 1 out of 4 players are purchasing items in the game.
Frederic:
"We think that there are actually two reasons for that. The first reason is that players don't need to buy things in the game, to actually play it. If you are playing with your friends but you don't have as much time as they do, you can make some transactions that will keep you on par with them. And it is up to you to decide if you will spend a lot of money on that, or just a little. But it is not necessary at all; World of Tanks and World of Warplanes can be played without ever spending a dime on the game. The second reason is that our audience is a mature kind of audience. Mature people playing the World of… series spend money because they are more willing to pay for a game like this. This is something we don't see with young audiences."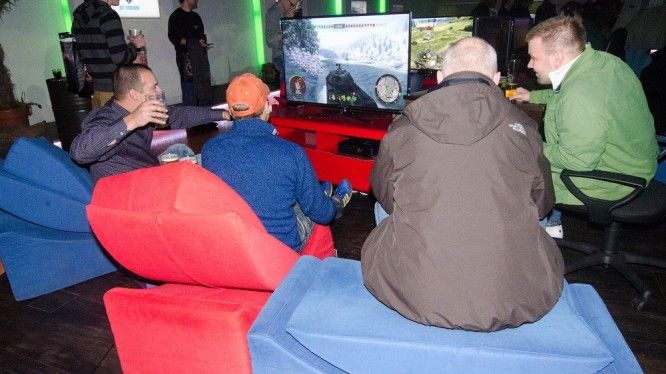 As Frederic stops talking, Tom jumps in on the question and adds:
"I would also like to make a promise to our audience and to our future audience. We promise that no matter what Wargaming title you are playing, we will never force you guys to buy a single thing in our game. There will never be any show stoppers or progress blockers of any kind; because we think that anyone should be able to play our games without ever spending money on them. The reason is pretty simple: we need gamers to play our game, we love making these games for the audience. By making people pay for a game, they will lose interest and walk away. Of course our 2000 plus employees want their paycheck every month, but we will keep our monetization system F2P."
Listening to those words, I remembered Tom once saying in an interview that any title in the World of… series is Free-to-Win, instead of Free-to-Play of Pay-To-Win. And so I started to ask them about that quote, but without finishing my question Frederic cut me off and started talking:
"Free-to-Win is something we feel strongly about. When we started people laughed at us for going F2P, most games back then who were F2P were really crappy. The only thing they wanted was to get as much money from your wallet as possible. We wanted open up our game to the larger public without making the game Pay-to-Win, and giving everyone the option to buy items in the game. Once again; you set the pace when playing the game. If you want to go fast, you can spend a lot of money. If you don't care leveling up as quickly as possible, then you spend a little or none at all."
Now I didn't forget that I had Tom Putzki on the couch either. Being a huge fan of World of Tanks, with over 10.400 matches played, I wanted to ask what a WoT veteran thinks of WoWP.
Tom:
"Well I am doing much worse at WoWP. Im a guy of 48 years old and frankly I am getting a little slower each year. And while WoWP is so much fun and the gameplay mechanics are the same as in WoT, I rather hide behind bushes and attack my enemies from there." After Frederic stops laughing at Tom, he adds to that:
"It a funny question because what we see is that we have three kind of gamers: Gamers who stick to WoT, gamers who stick to WoWP and gamers who like both. The major difference is that, with WoWP you get an extra dimension and that is something which is not for everybody. Also the tanks are slow, the maps give to time to hide and there is time to be more tactical. Of course you also have gamers that just like tanks or airplanes."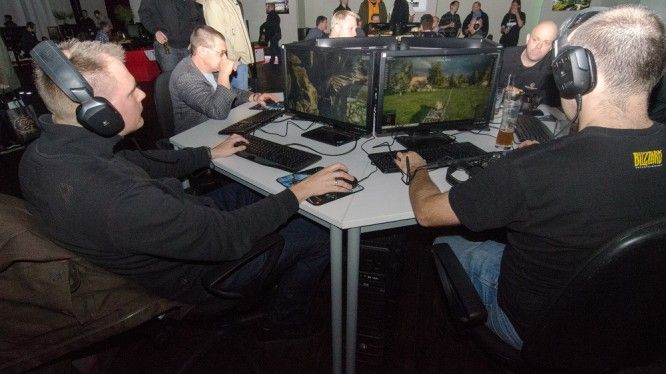 When looking at myself, I know I am not a young gun any more. With my 33 years of age I am getting slower and often times get my ass whooped by the younger generation. So how does Wargaming look after is senior Citizens? I asked Frederic.
"Well the nice thing about our titles is that you have got several kinds of gameplay. We got the quick, nimble tanks and planes for those who are up to close combat. We have several medium, less agile, tanks and planes for those who like the one-on-one battles but need a little more time. And of course we have got the heavy tanks and bombers. Playing those machines will still keep you in the battle, but will give you plenty of time when attacking ground targets or attacking from far away. So the slower 'older' players can play just as big a role in battles as our younger 'quicker' players."
With WoT a big success, WoWP being launched at the moment, WoT Xbox360 Edition on its way and WoT Blitz announced, where does it all end? Is the sky the limit for Wargaming?
"We honestly don't know. Right now we are focusing on the World of… series and trying to get them on several platforms like the Xbox and as a browser game. Internally we have a plan set out and we hope we can follow that plan and become an even bigger player in the gaming industry. Right now we are located in four continents in the world with over 60 offices. But we would like to go for total world domination or so to speak. At the moment we are focusing on South-America and Mid –America; people play our games there, but somehow not as intensely as in Asia, Europe or NA."
Time flies when you are having fun, and so I ended up at my final question for Tom and Frederic. I asked them about WoT Xbox360 edition. WoT is a F2P game, but on the Xbox360 edition people need a gold account to play the game. Why did you 'agree' on that part of the deal? Expecting a short answer, I got totally surprised by what I heard next:
"A F2P service is really expensive to provide with a lot of infrastructure behind it. We don't talk about that because we simply don't think it is important for our audience to know. When bringing WoT to the Xbox360 we wanted it to stay F2P and it still is. But since Microsoft has to do a significant part of providing the F2P service, this seemed a good solution for both parties to keep it exclusive to the gold account members. Take in account that millions of players already have a gold account, and so playing WoT will not cost them anything extra. People also have to remind themselves that F2P is a totally new thing on any console, and we are still trying to figure out how to bring that to the audience. We don't know how it will develop in the next two years, but we do think that this solution is the best one at the moment. So yes, you can only play WoT for an unlimited time with a gold account, but playing the game itself is still free; no transactions needed at all."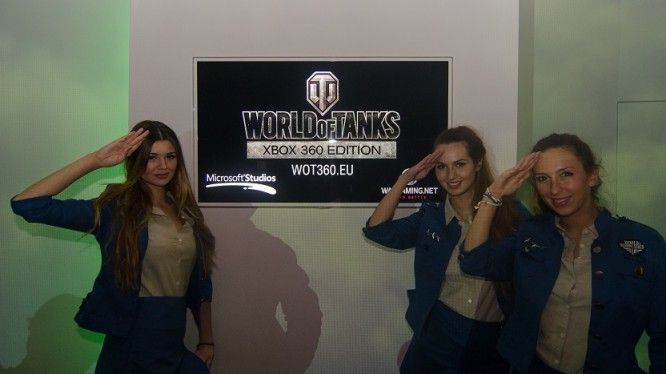 With the interview come to an end it is time for me get back into the party. Finding myself behind the computers, playing WoWP over and over, I realize that I need quite some practising before I will be able to compete with you guys. See you guys in the air; I am the one with smoke coming from out of its tail, wings all torn up and spiralling down towards the ground.