A new MMORTS is on the horizon for those who are interested in learning about it. IronZog LLC has announced the start date for the War of Conquest Kickstarter campaign, along with additional information about what the new game will offer potential players.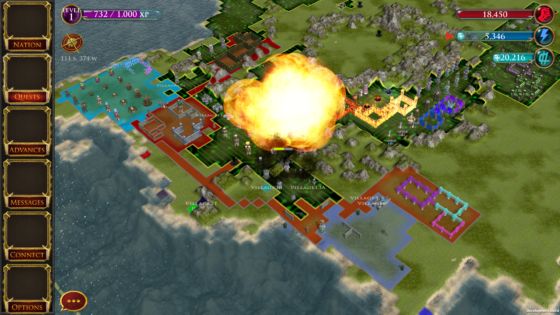 In War of Conquest, players will be put in charge of their own nation in a fantasy world with thousands of other players as each nation looks to advance itself with arcane arts. Orbs of Power are the key to this advancement and will end up being the primary point of potential conflict as players will need to build defenses, forge alliances, and gather resources. All of these features operate in real-time through coordination or conflict with other players.
"A nation's valuable assets are found not so much in the land it holds and the defenses it's built, which are liable to be conquered, recaptured, rebuilt, destroyed and relocated over and over—but in the technological advances it's developed, the resources it's gathered and the alliances it's engineered," says lead developer Michael Ferrier.
War of Conquest is seeking $7,000 in order to wrap up the remainder of its development, including artwork, music and sound, localization, licensing fees, and advertising. The game's crowdfunding campaign will kick off on Tuesday, September 5th. You can check out the title's Kickstarter page in advance, head over to its website, and check out a trailer below.
Our Thoughts
A single massive map where thousands of player nations are vying for dominance? Sounds like a pretty intriguing recipe. We wish the folks at IronZog the best of luck in their development and hope that the game offers something new and unique to RTS fans.
Source: press release
Articles Related to War of Conquest
War of Conquest Game Page
StarCraft Remastered Brings the Classic RTS Up to Date
Turn-Based Strategy MMO Space Wars: Interstellar Empires Announced
Related:
Crowdfunding
,
Kickstarter
,
MMORTS
,
News
,
War of Conquest