The Monster Hunter World Spring update has always been a nebulously dated thing, what with the season of its release in its name. We now have a hard calendar date for that release, along with some new details about what the update will include beyond the Deviljho.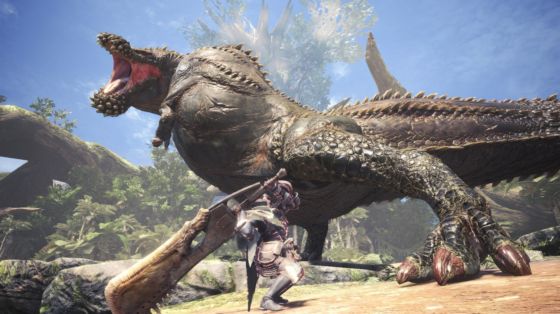 The content update is due to land on Thursday, March 22nd, which not only brings the Deviljho and its related quests and rewards, but will also make a balance pass to all of the game's 14 weapons, allow players to return to the multiplayer Gathering Hall after completing a quest, and stop player attack animations from interrupting carving of a monster.
The update will also introduce the ability to customize the physical appearance of your character. However, doing so will be free the first time only; after that, players will have to purchase the ability to do so via a microtransaction of some form.
In addition to the Spring update, players can look forward to a new Spring Blossom Fest seasonal event that will bring back several discontinued event quests and provide players two Lucky Vouchers with every daily login. The Gathering Hall will also be dressing up for the event with flower streamers, a giant Poogie-shaped flower arrangement, and nighttime fireworks. During the same time period, the player-designed Wyvern Ignition great sword weapon will also be available to earn.
Finally, the Mega Man Palico outfit that was part of the game's launch lead-up back in December has also gotten a firm release date of April 13th.
Our Thoughts
While it's no fifteenth weapon announcement, we're still pretty glad to see what's coming down the line for players of Monster Hunter World regardless. We wish players the best of luck in facing the Deviljho in about a week's time!
Source: IGN
Articles Related to Monster Hunter World
Devil May Cry and Monster Hunter World Cross Paths
Rumor: Monster Hunter World is Adding a Fifteenth Weapon
Monster Hunter World is the Best-Selling Game in Capcom's History
Related:
Monster Hunter World
,
Multiplayer
,
News
,
Update