The first quarter of 2017 is off to a not-so-great start according to the latest NCSoft Q1 report. The MMO publisher posted its earnings report, which shows that most of the company's IPs are on a downward slope to start off the year, though other sales overall only took a slight hit.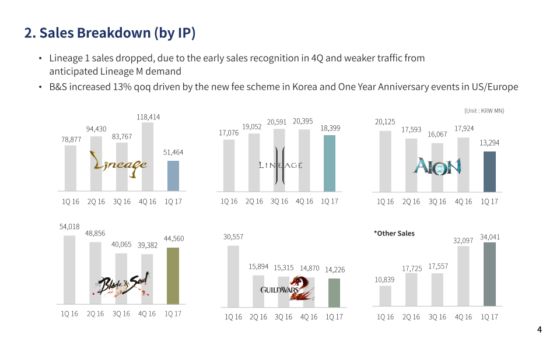 As shown in the slide above, the seemingly evergreen IPs of Lineage and Lineage II had a slight downward slope. In the case of Lineage I, the low sales were attributed to early sales reports in the fourth quarter and an expected decrease of interest in the title with the release of mobile MMO Lineage M. Guild Wars 2 and Aion also saw a dip, while Blade & Soul moved upwards on the strength of new monetization in Korea and the one-year anniversary in the West.
Overall, sales are down by 1% year-over-year. Operating profit dropped 60% YoY, but that is attributed to "incentives paid on the back of record-high earnings" from last year. The total breakdown can be found here.
Our Thoughts
It's really hard to call any of this indicative of any sort of trend considering this is the first quarter of 2017, so we're not going to get too bent out of shape over nearly every IP in the NCSoft portfolio seeing a slight dive. We'll get more worried about games like Guild Wars 2 if the trend continues through the year, though that might not be terribly likely as a result of the game's impending expansion.
Source: NCSoft earnings release site
Articles Related to NCSoft
ArenaNet Confirms Guild Wars 2 Expansion Rumors
New Lineage 2 Europe Server Announced
Rumor: NCSoft Working on Aion 2
Related:
Earnings
,
Industry
,
MMO
,
MMORPG
,
NCSoft
,
News