The NCSoft quarterly financials are in for Q4 2015 and they show growth from all major NCSoft IPs following a dip in the third financial quarter of 2015.
Overall, 2015 saw a small drop in profit and income for the company when compared with 2014's average, however, these are still up on 2013's numbers and flat year-on-year sales are almost level.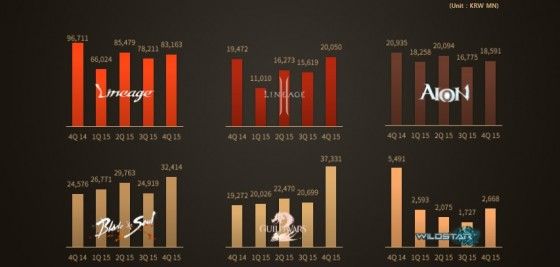 Looking at the quarterly breakdown per IP, unsurprisingly, Lineage is still very much NCSoft's largest IP with no major difference to speak of from Q3, though with such a steady playerbase the game sees no signs of slowing down any time soon. And Lineage II even saw some growth. Along with Blade & Soul, the three IPs equally saw content updates and in game item promotions which NCSoft claim as the reason for this growth. It will be interesting to see Blade & Soul's numbers in the first quarter of 2016 following the incredibly successful launch here in the West.
Of course we're all interested to see how well Guild Wars 2 and Wildstar are doing. There have been plenty of rumors and predictions floating around, but regardless of what people are saying, both games saw some amount of growth. Guild Wars 2, especially, saw sales almost double following the launch of the game's first expansion, Heart of Thorns, actually bringing the ArenaNet MMORPG up to the second most lucrative title for NCSoft in Q4 2015. Wildstar, on the other hand, is still showing very low numbers, however quite apart from recent reports, there is a little bit of growth here, and perhaps with a new Director in place with exciting plans for upcoming content they can still turn things around.
However, looking at the yearly sales breakdown, Wildstar is nowhere to be seen, while Guild Wars 2 has solidified its place as a "main revenue driver" for NCSoft. Aion on the other hand is beginning to show a little decline, though it still remains a big earner.
On the whole, these NCSoft quarterly financials show that the company is still one of the strongest in the world for MMORPG revenue, and while we here in the West certainly love our MMOs, Korea is still very much the biggest driver of revenue for NCSoft.
Our Thoughts
Well we're glad to see some of our favorite MMOs doing well and we really are looking forward to seeing how the NCSoft quarterly financials look following Blade & Soul's launch over here and more major content updates for Wildstar! We did hope to see Wildstar doing a little better financially but regardless, we're glad that there is growth rather than decline, for sure. And Guild Wars 2's increase is actually kind of jaw-dropping. We knew players returned to the game in droves to check out the expansion but whew! That's a massive gain for ArenaNet! And with new games on the way, we're sure to see these numbers skyrocket in 2016.
Source: NCSoft Earnings Release
Related:
Aion
,
Blade & Soul
,
Financials
,
Guild Wars 2
,
Lineage
,
Lineage 2
,
MMORPG
,
NCSoft
,
News
,
Real Life
,
Wildstar