The Cloaked Ascendancy lies defeated, but as is often the case, a new evil is rushing to take their place in the Shroud of Souls update. The newest content release scheduled for Neverwinter is bringing some fresh trouble to the city of Neverwinter as well as some long-awaited features.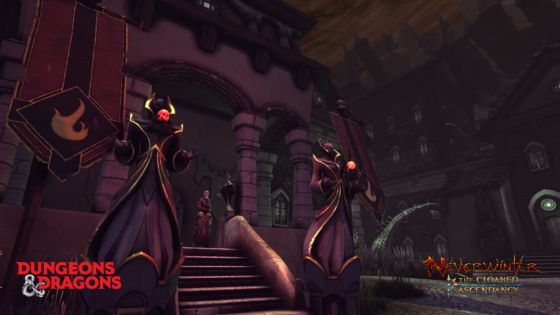 Mere minutes after The Cloaked Ascendancy was cleared from the River District, a new threat has decided to attack the area. Maybe the River District is just that pretty? From the release:
"In the wake of the Cloaked Ascendancy's occupancy of the River District, a mysterious dragonborn necromancer emerges wielding a powerful artifact, the Shroud of Souls. Released from beneath the River District, she now controls an army of wraiths, and is set on summoning even more powerful spirits to lead her forces."
In addition to saving the beleaguered city once more, the anticipated Loadouts feature that lets players swap between different character builds and gear configurations will be added. Guilds can also look forward to adjustments to Strongholds structures, a new Stronghold Siege mode, and a customizable Guild Hall social area.
The Shroud of Souls is arriving to PC players on May 2nd. Meanwhile, console players can look forward to the release of The Cloaked Ascendancy on April 11th. Information about both releases can be found on the official website.
Our Thoughts
Seriously, though, what is it about the River District that draws in the baddies? Regardless of the reasons why we're sure that players of Neverwinter are eager to see the new content. A lot of the guild-based content especially sounds intriguing.
Source: press release
Articles Related to Neverwinter
Neverwinter Announces Cloaked Ascendancy Console Release Date
Neverwinter River District Introduced in Blog Post
Overhaul of Neverwinter's Spellplague Caverns Detailed
Related:
MMORPG
,
Neverwinter
,
News
,
Update