Great news for Neverwinter fans as it seems that the free to play MMORPG is actually doing really well on Xbox One having drawn in over 1.6 million players since it launched as the first free to play MMORPG for the next-gen console and Perfect World Entertainment CEO Bryan Huang is over the moon.
"As our first entry into the console market, we're absolutely ecstatic to see the success of Neverwinter on Xbox One. Our goal with our online games is to create worlds that players want to play in, and support them through fine tuning their gaming experience and introducing fresh content with expansion releases."
Cryptic have announced that they will be launching five free expansions throughout 2015 in order to keep Neverwinter feeling fresh, with material from popular Dungeons & Dragons story lines including Elemental Evil and Tyranny of Dragons.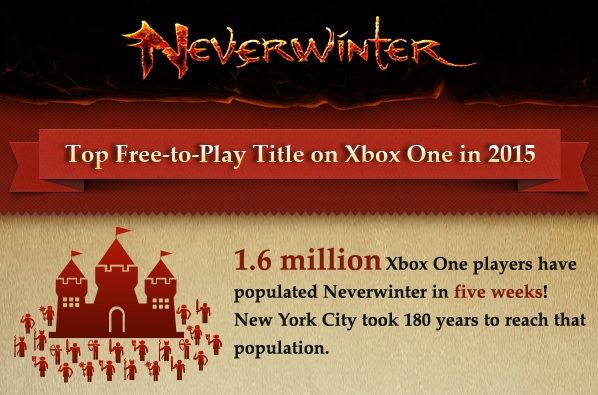 According to their infographic, Xbox One adventurers have to-date played 86 million minutes of Neverwinter in which time they have created 2.3 million characters with over 92,000 of these reaching the level 60 cap. Meanwhile, they have earned 16 billion Astral diamonds, formed 10 million parties, killed over 1 billion enemies including Undead, Orcs, and Bandits, and just 92 players have killed over 1,000 dragons. That's a lot of dragons!
Source: Press release
Related:
Console
,
F2P
,
MMORPG
,
Neverwinter
,
News
,
Xbox One