Starting January 17, 2017, Neverwinter console players will be able to access the most recent content update for Cryptic Studios' MMORPG. Neverwinter: Storm King's Thunder – Sea of Moving Ice has been released for the PlayStation 4 and Xbox One.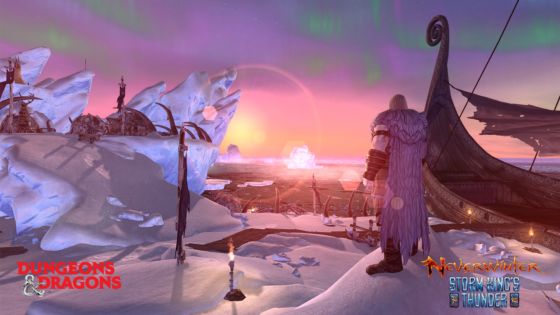 Sea of Moving Ice expands the story of Storm King's Thunder while also adding in a ton of new gameplay features. These include a new adventure zone, fishing mini-game, nautical travel, artifact weaponry, treasure hunting and more.
Here is a list of the main features included in Sea of Moving Ice:
Assault on Svardborg – This epic, new level 70 trial pits 10 adventurers against the mighty Jarl Storvald in the heart of his stronghold, with both Normal and Master difficulty levels.
New Adventure Zone – Adventurers will traverse over half a dozen large ice mountains and several smaller icebergs to muster support against Jarl Storvald and his threat of endless winter.
New Means of Travel – The khyek is a new nautical vessel players will use to traverse the Sea of Moving Ice.
Fishing Mini Game – Adventurers can hop in the khyek and cast a line to catch over a hundred different species of fish, gaining reputation used to access and upgrade powerful, new weapons.
Treasure Hunting – While reeling in their daily catch, adventurers may discover bottles filled with maps, leading to treasure throughout the Sea of Moving Ice.
Artifact Weaponry – Reclaiming lost giant relics from enemies through new activities is an effort that won't go unnoticed, as players will earn weapons far stronger than any seen before.
In order to access Neverwinter, Xbox One players will need an Xbox Live Gold membership, however, PlayStation 4 users do not need a PlayStation Plus membership.
Our Thoughts
The Sea of Moving Ice update was available for PC users last November and it's great to see all of this new content now available for every platform.
Your Thoughts
Have you had a chance to check out Sea of Moving Ice for Neverwinter yet? Let us know your thoughts on the update and how it performs on the PS4 and Xbox One.
Related Articles
The Neverwinter Expansion Storm King's Thunder Is Live On PS4 And Xbox One
Neverwinter's Sea of Moving Ice Continues Storm King's Thunder Story
Neverwinter Offers Storm King's Thunder Campaign Details
Related:
Cryptic Studios
,
MMORPG
,
Neverwinter
,
News
,
Perfect World Entertainment