If you call yourself "The Last Word", you better bring some firepower, and the newly announced Atlas Reactor Freelancer has that in spades according to an official reveal by the devs.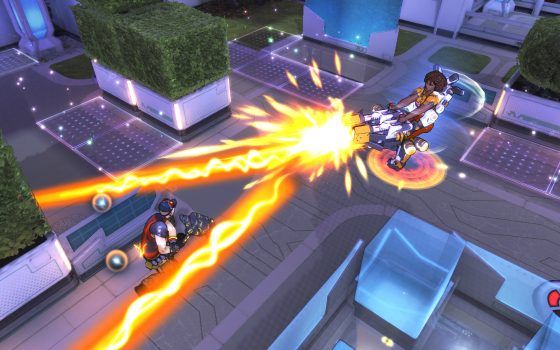 Juno: The Last Word is an offensive-minded Firepower character for the turn-based squad shooter, bringing several tricks to lay siege to any enemies that stand before her.
Juno is the first character capable of engaging her Ultimate ability without having to earn maximum energy. Lay Down the Law allows her to plant her feet and use both of her cannons to unload a continuous stream of fire at a cost of 50 energy, with a sweep available at a cost of an extra 20 energy. Juno also has a conal primary ability that can be aimed in two different directions, a tether that can damage targets who move, a 40 point Riot Shield and a knockback.
Despite all of her offensive tricks, Juno is susceptible to being flanked if she's out of position during her Ultimate, and she is incapable of firing over walls.
Juno is set to release to the game on September 30th. A complete breakdown of the character can be seen on the Atlas Reactor site.
Our Thoughts
Juno looks like an absolute powerhouse who could easily decimate anything that has the guts to stand before her. A lot of her moves seem to favor an aggressive, hard-charging playstyle, though being aware of your position is critical. We can't wait to get our hands on Juno!
Your Thoughts
What do you think of Juno? Is this going to be a character you'll try, or are you already in love with a specific member of the roster? Tell us what you think below!
Source: Official site
Articles Related to Atlas Reactor
Atlas Reactor Interview with Lead Designer Will Cook
Atlas Reactor Launch Date Announced, Open Beta Starts Today
Atlas Reactor – Prep Phase
Related:
Atlas Reactor
,
News
,
Reveal
,
Tactical Shooter
,
Turn-Based