If you're an MMO crafter of any great depth, you're familiar with the activity of muling; creating characters whose sole purpose is to hold materials for your primary crafting character. If you're looking to do crafting in Crowfall, then muling won't be necessary with the introduction of a Crowfall account inventory system being added in the next test.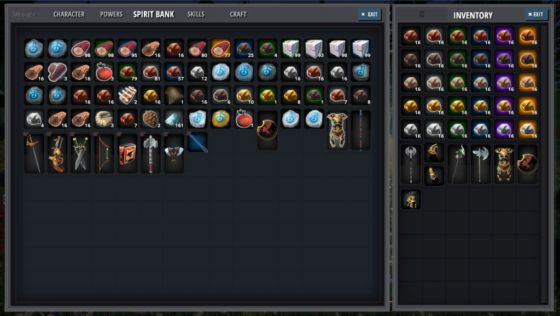 The so-called Spirit Bank will allow multiple characters to deposit items in a central location. The Spirit Bank is available regardless of which realm a character is located, and can be accessed by every avatar associated with your account. There will be a slight delay between transfer of items from Inventory to Spirit Bank, and items "in transit" will be marked with a red X icon until the transfer completes.
The Spirit Bank system parallels distribution of materials in Crowfall's worlds, which now total four; three that are full-PvP and one that is PvE-centric. According to the post, PvP worlds will feature the highest quality and concentration of materials, while the PvE world will feature more common materials and less mats overall. "The idea is that the quality and quantity of resources on a given world are linked to the danger level of a given world," reads the post. "[This echoes] the idea that great risk allows for great reward."
The new Spirit Bank system is set to go live with the next playtest. Full details can be read here.
Our Thoughts
Account-wide inventories are one of the best quality-of-life features in modern MMOs, and we're glad that Crowfall will be introducing a similar system. While it might be disheartening for crafting-minded players to learn that PvP realms will have the best materials, perhaps the game's sense of community and cooperative war effort will offer some measure of protection. It's far too early to know at this point.
Your Thoughts
What do you think of the Spirit Bank? Does this make you want to pursue crafting in Crowfall, or would you rather take part in PvP? Tell us in the comments section below.
Source: official site
Articles Related to Crowfall
Introducing the Crowfall Templar Archetype
Crowfall Equity Crowdfunding Transforms Backers into Investors
Discussing the Big World of Crowfall with ArtCraft
Related:
Account Inventory
,
Crowfall
,
News
,
PvP
,
Sandbox MMO
,
Spirit Bank