With the All-New, All-Different era of Marvel comics kicking off, Marvel Heroes of course can't stay behind! That's not all though; the Boost Bonanza Sale is back for a limited time as well!
All-New, All-Different
Ms. Marvel being renamed to Captain Marvel is kind of a big deal, so she deserves a new default costume! Her power icons have also been updated to better suit her new alias. The previous default costume will remain in the game as the Captain Marvel Classic Costume, so you won't entirely miss it. For those of you who already have Captain Marvel unlocked; you'll retain her Classic costume. If you wish to receive a copy of the new default Captain Marvel costume, head to your profile and redeem the code "DANVERS".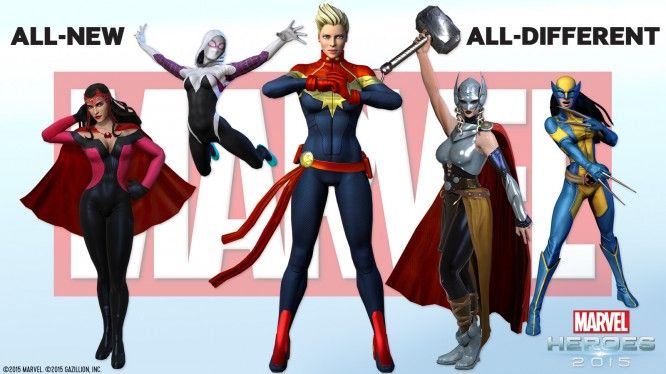 Spider-Gwen is being made available as a Team-Up Hero, and she's ready to kick some butt. Spider-Man players can also expect a Spider-Gwen Enhanced Costume in about a month, with the same unique animations and voice-over as the Team-Up Hero.
Remember when female Thor was announced? As Jane Foster will soon wield Mjolnir in the pages of the Mighty Thor #1, a Thor Enhanced Costume is being made available in the game! Voiced by the legendary Jennifer Hale, you're surely in for a treat.
Known previously as X-23, Laura Kinney will take on the mantle of the All-New Wolverine next month. And to celebrate Scarlet Witch's own series, her in-game character deserves its own complementary new costume.
Boost Bonanza Sale
The Boost Bonanza Sale is back once again, and almost all of the boosts are back in the store for a limited time. Make sure you grab them quickly though, as the sale only lasts until Tuesday 10/13, 12:00 PM PDT.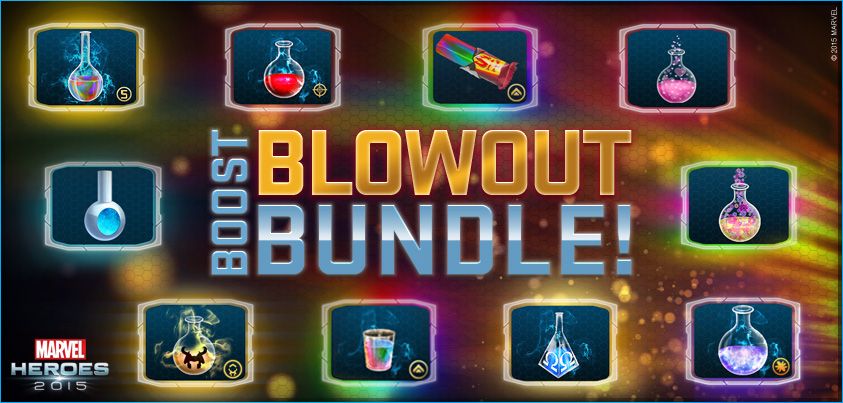 If you're looking for more savings, grab the Boost Blowout Bundle while it's still available! It's full of all of the best boosts at a huge discount.
Source: Marvel Heroes Official Website
Related:
Gazillion Entertainment
,
Marvel Heroes
,
MMORPG
,
News
,
Update