Ubisoft released three new For Honor trailers at PAX West this weekend, just ahead of its closed alpha testing period! The new  trailers focus on one of each faction's classes that will be available in the closed alpha. These might already help players selected to take part in the testing to decide what class to choose. For Honor's closed alpha runs in the weekend of September 15-18 and it is still possible to sign up for a chance to take part in this or future tests.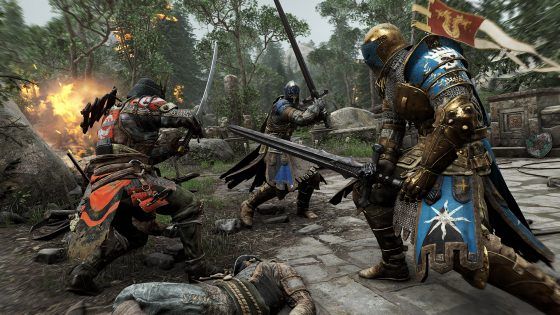 History has not been kind to the Samurai. After losing their homeland to sea and fire, the nomadic warriors have ceased their wandering and have rebuilt themselves a new nation under a mighty Emperor. The trailer below shows the Samurai Kensei hero, called sword-saint in the trailer, is revealed to have the strongest armor. He wields a Nodachi sword, which is said to have been considered too large for combat, but that the Kensei handles with devastating precision.
Previously thought to have vanished, the Vikings have returned to plunder, take new lands, and reclaim their ancient homeland in the north. The Raider hero wields a battle axe and, unlike the Kensei, doesn't seem to have any use for armor at all, as he doesn't fear death and is bent on wreaking havoc on the battlefield.
Scattered for centuries, the Knights have begun at last to gather again under a single banner: that of the Iron Legion.. The Warden wields a longsword and is said to fight for duty and to defend the weak, which is pretty representative of a member of the Knight's faction. From the trailer, they seem to be placed somewhere between the Kensei and the Raider mobility- and armor-wise.
Our Thoughts:
It's definitely hard to decide between all the hero choices offered by For Honor because it would be interesting to discover the different playstyle of each hero and explore the factions for much longer than a weekend. Since there will be six classes playable in the upcoming closed alpha, we expect another set of heroes, one from each faction, to perhaps be revealed ahead of the test. We are definitely very curious to see more heroes and how they compare on the battlefield.
Your Thoughts:
What faction and class would you pick for a testing period as short as a weekend and why? Let us know your favorites in the comments below!
Source: press release
Related:
For Honor
,
News
,
PAX West
,
Single Player
,
Ubisoft