If you're looking to start your new year off with a bang in Grand Theft Auto V's multiplayer, then the latest update has what you're looking for. A new GTA Online Adversary Mode, a new vehicle and bonus GTA$ earnings are all part of the game's latest update.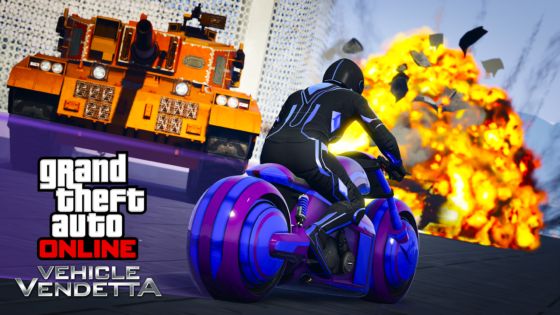 The headlining feature of the update is the new Vehicle Vendetta Adversary Mode, where teams of players will get to vent their road rage at each other in an arena without worrying about LSPD interference. To further spice things up, various powerups will be available to collect, which can provide a variety of chaotic boons such as turning player vehicles in to tanks, or even reversing the opposing team's controls.
The update is also adding the new Pegassi FCR 1000 Custom motorcycle, described as an "uber-customizable, fully-featured beaut of a bike [that] treads the fine line between old-school, no-frills engineering and a tight-trousered hipster's delight." The bike can be purchased at Benny's Original Motor Works.
In addition to the new content, there will be new bonuses for players to collect starting on January 3rd. The game will offer discounts on various equipment and Special Vehicle Warehouse Renovations, and will provide 25% more GTA$ earnings on completed Vehicle Exports as well as double GTA$ and RP for completing Rockstar Stunt Races. Racing Alley will also be the Premium Race starting on January 3rd, offering extra GTA$ and triple RP. All of the bonuses run until January 16th.
Complete details of everything in the update can be read on the game's official site.
Our Thoughts
This new GTA Online update sounds like a busy one, and we're extra excited to try out the Vehicle Vendetta mode. Anything that gives us a nod to the days of Twisted Metal we're definitely up for. Here's hoping players of GTA Online have a great time!
Your Thoughts
Are you going to be trying out the new Adversary Mode, or is there something else you and your crew will be doing in GTA Online? Tell us your plans in the comments.
Source: official site
Articles Related to GTA Online
GTA Online: Bikers Adding Player-Made Biker Gangs
GTA Online Update Introduces New Game Mode
Grand Theft Auto Online Review (2015)
Related:
Console
,
Grand Theft Auto Online
,
GTA Online
,
News
,
Update