The Official Hearthstone Twitter released a .GIF this morning teasing a possible new game mode or streaming option.
New Game Mode or Streaming Service
When players fire up Hearthstone, they see three gameplay options: the main game, the arena, and solo play. These options have existed since launch, and nothing has changed since. Starting today, everything is about to change.
A new Tweet by @PlayHearthstone shows a new, fourth primary menu.
Huh, that's new! #Hearthstone pic.twitter.com/zpA0McRqha

— Hearthstone (@PlayHearthstone) June 8, 2015
Since the Tweet dropped at 11:30AM this morning, the internet has exploded with speculation. The most popular theory: a new game mode. Blizzard has teased big developments for the game for weeks. It's no surprise that they released something this morning, given E3 is a week away.
Other speculators believe the new option might be a streaming feed. With services like Twitch, Azubu, and Mobcrush picking up steam, Hearthstone might be moving toward broadcast. Other competitive games like SMITE have already had a lot of success hosting streams from within the game client. Hearthstone has established itself as a viable competitive medium. The community response to tournaments has been overwhelming. If Blizzard creates their own streaming service, though, they will be the first developer/publisher/broadcasting server in the world.
Hearthstone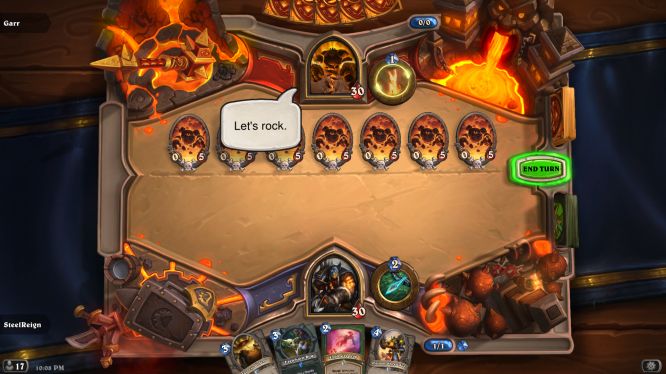 Hearthstone is a free-to-play digital strategy card game that anyone can enjoy. Players choose one of nine (soon to be ten or eleven) epic Warcraft heroes to play as, and then take turns playing cards from their customizable decks to cast potent spells, use heroic weapons or abilities, or summon powerful characters to crush their opponent.
Related:
eSports
,
Hearthstone
,
MMO
,
MMORPG
,
News
,
Twitter
,
Update