The second free update for The Division, titled Conflict, is scheduled to arrive on Xbox One, PlayStation 4, and PC on May 24, 2016. The biggest draw of the new update will be Clear Sky, which is an incursion that will be located inside Columbus Circle.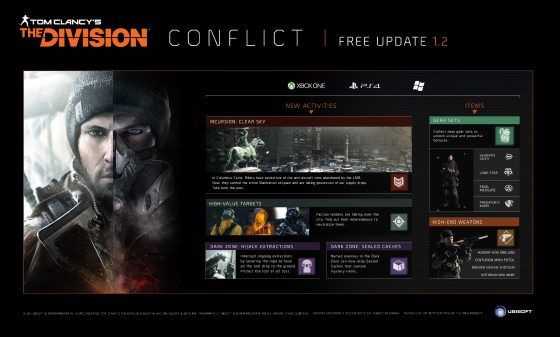 In Clear Sky, Agents will face off against Rikers while attempting to regain control of an anti-air missile site and make the skies above Manhattan safe again. In addition to the new incursion, the high-value target (HVT) system will be introduced. Players can find a list of HVTs from an officer inside their base of operations. There will be an accompanying description, level, and recommended gear score, but players will only have one shot and a limited amount of time to take down each target.
In order to make the Dark Zone even more intense, other players can now hijack your extraction loot. Players can run to an extraction location, cut the rope, and force all of the gear to fall to the ground. Of course, this wouldn't be nearly as exciting without all kinds of new equipment, and update 1.2 is also introducing new gear.
Our Thoughts:
The Division received a lot of praise on release, but in order to keep players interested there needs to be a steady flow of content. Constant updates to the Dark Zone, HVTs, and an added incursion should definitely keep players engaged, however, the next updates are expected to be paid DLC, and we'll see how well those go over with the community.
Source: Ubisoft
Related:
MMORPG
,
News
,
Shooter
,
The Division
,
Ubisoft