The next chapter for Starfall Prophecy is arriving with RIFT: Forged in Flame, which will be giving players a new raid and new end-game weapons as Telarans face the threat of the Lords of Fire.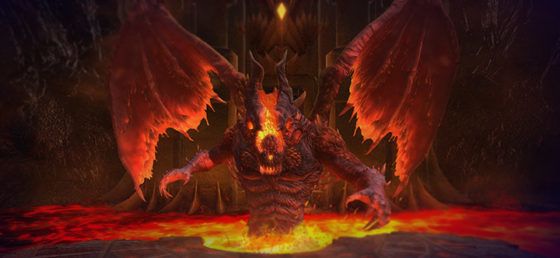 The centerpiece for the Forged in Flame update is the new 10-player raid, Tartaric Depths. The Depths are a fiery prison where rituals have created an avatar of the Tenebrean god The Enigma, and will feature a total of seven bosses. The post even mentions that some players on the game's Test Shard have already caught a glimpse of one of four bosses coming to the raid. Tartaric Depths will be accessible via the LFR tool.
The other major piece of content arriving with Forged in Flame will be Eternal Items, a set of weapons for each Calling that are earned through a level 70 questline and improve in power through the completion of challenges such as sealing Rifts or defeating monsters. Eternal armor items are also hinted at, and can be improved via the Active Upgrade system. According to the post, Eternal Items overall are "truly Best in Slot" and offer players "an unmatched degree of power".
The new update will also bring some tint improvements to the wardrobe system, and will introduce a level 70 challenge titled Rise of the Phoenix. More information about the Forged in Flame update will be revealed later via article posts and livestreams, leading to the update's launch on March 1st.
Our Thoughts
Forged in Flame is sounding like a big piece of content for RIFT. We're sure that adding more end-game activities will be welcome among players, and we're interested in learning more about this new update and what it's offering.
Your Thoughts
Are you looking forward to RIFT: Forged in Flame? Will you be taking on the new raid? Give us your thoughts below.
Source: official site
Articles Related to RIFT
RIFT Devs Offer Compensation for Starfall Prophecy Disconnects
Free-to-Play Finder: The RIFT Free-to-Play Experience
PAX West: Interview with Trion Worlds CEO Scott Hartsman
Related:
MMORPG
,
News
,
Rift
,
Update