The latest note from the producer has revealed that the job of Star Wars The Old Republic producer has changed hands. According to the post, Ben Irving has moved on to another opportunity within BioWare, and the role will be taken up by live services director Keith Kanneg.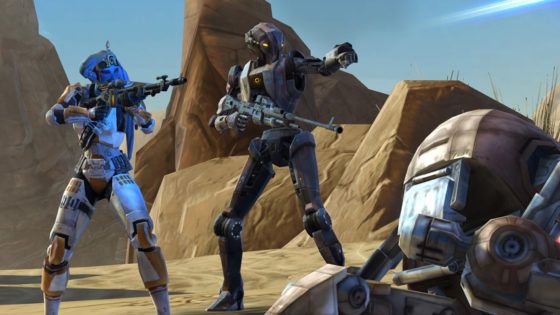 Kanneg's first producer's letter outlined his previous experience within the game, both as an employee and a player. In his former role, Kanneg served as the overseer of the game's servers as well as the intermediary between BioWare and the Customer Service team. As a player, he's had over 10,000 hours of time in-game with multiple characters over different servers.
In addition to the reveal of his new role, Kanneg offered word of an upcoming blueprint for what's coming to SWTOR over the next year.
"We'll have fun activities for you whether you're a player who loves Star Wars™ stories, or the veteran who is looking for new challenges and more options to play with friends, or if you simply want to play on your own. Look for the SWTOR Roadmap in the coming weeks where we'll offer insight about what's happening this year and what you can expect in the coming months."
In the meantime, the SWTOR team is working on Update 5.2: The War for Iokath, which is currently due to release on April 18th.
Our Thoughts
Congratulations to Mr. Kanneg and our best wishes to Mr. Irving in his new position! While we're certainly looking forward to seeing how Update 5.2 turns out, we're also going to be very interested in knowing what else is in store for SWTOR through 2017.
Source: official website
Articles Related to Star Wars The Old Republic
Should You Play SWTOR?
Versus: The Secret World vs. Star Wars The Old Republic
SWTOR Offers Unstable Arbiter's Lightsaber for Direct Sale
Related:
Industry
,
MMORPG
,
News
,
Producer's Letter
,
Star Wars The Old Republic